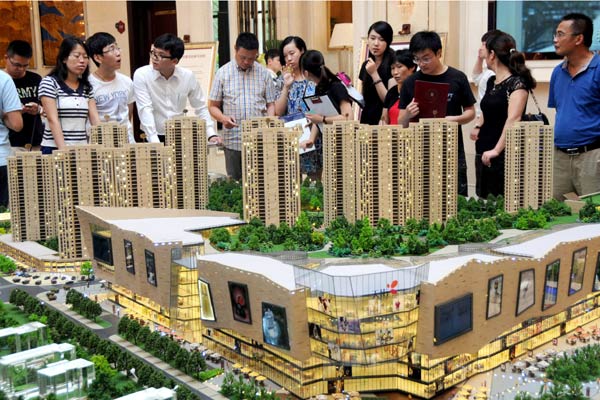 Potential homebuyers examine a property project model in Hangzhou, capital of Zhejiang province, Aug 31, 2014.[Photo/Xinhua]
Scholars of Chinese Academy of Social Sciences expect first-tier cities to join others this year in lifting the housing purchase limit to shore up property market.
The five cities that still have such restriction, namely Beijing, Shanghai, Guangzhou, Shenzhen and Sanya, will likely relax the limit, as home price continues to slide, reported People's Daily on Monday quoting Ni Pengfei, director of CASS center for city and competitiveness.
In the long run, Ni said, Chinese property industry will follow an L-shaped development pattern, which means slowdown in the sector would gradually bottom out and medium growth rate will the "new norm."
"China will continue to slow in 2015 as the housing slump weighs on the broader economy," said Alaistair Chan, economist of Moody's Analystics, in a note on Tuesday, adding that a sharper housing correction is the biggest downside risk to China's economy.
To avoid a hard landing in the sector, the Chinese government has unveiled a series of measures, including lifting home purchase restrictions and easing mortgage rules. In addition, the central bank cut benchmark interest rates in November for the first time in more than two years to reduce financing costs.
The property market has shown signs of stabilization since the rate cut with signs of slight recovery.
Price dropped month-on-month in 67 of the 70 cities tracked by the government in November, compared with 69 in October, with the largest price fall among them dropping from 1.6 percent to 1.4 percent, latest figures released by the National Bureau of Statistics showed.
However, cooling demand and serious oversupply are expected to plague the real estate market and compromise the government's efforts, said Ni Pengfei in a yearly outlook report.
He added that the sector will continue to diverge, as housing market among first-tier cities will more likely rebound in the second half this year, and third- and fourth-tier cities will need more time to de-stock and adjust.
China's upbeat housing sentiment rolls into 2015
China's stronger than seasonal property sales in December point to a recovery in market sentiment thanks to looser housing and monetary policy, with the upbeat momentum expected to swing into 2015, analysts said.