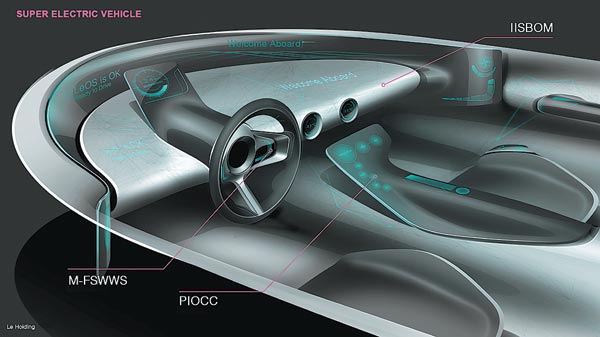 Leshi Holding (Beijing) Co's super electric vehicle concept illustrates "LeOS is OK. Ready to drive" displayed on the dashboard. [Photo/China Daily] 
Internet company developing cut-price "supercar" to tackle nation's air pollution 
When word spread last week that Infiniti's former senior manager was joining Chinese Internet company Leshi Holding to develop a car manufacturing business, the company's share price surged.
On Jan 6, Chinese media reported that Lyu Zhengyu was joining Leshi Holding (Beijing) Co as the China head of the electric "supercar" project and that he would report directly to Jia Yueting, the company's chairman and president.
Lyu declined to give details and told the reporter to refer to the company information due to be released this week.
No personnel information was available from the company's marketing department by the time this paper went to press.
Lyu served Infiniti China as general manager from 2010 to 2013 and was appointed as Infiniti Asia and Oceania general manager in May 2013.
Leshi's business started with content streaming website letv.com.
The website is run by a subsidiary company Leshi Internet Information and Technology Corp, which was established in 2004 and in 2010 launched on Shenzhen's ChiNext, a Nasdaq-style board comprised of mainly high-tech companies and those with high growth potential.
The business has now expanded to include smart TV sets and accessories, movie and TV show production and smart TV user interfaces.
The Internet company officially announced its electric car plan in December. Leshi's Le Telematics Co CEO He Yi said the forthcoming product would be a "smart super electric vehicle" offered around the world as a global product.
He said the Silicon Valley based automotive research and development team had been working on the car for nearly a year.
He said a joint investment with domestic carmaker Beijing Automotive Group Co was made into American company Atieva Inc in the summer of 2014.