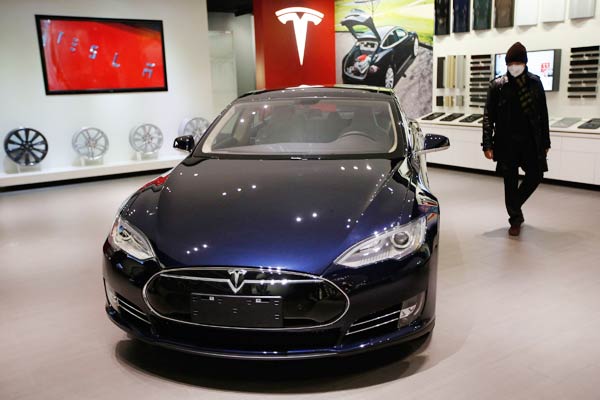 A man looks at Tesla Motors' Model S P85 at its showroom in Beijing in this file photo from Jan 29, 2014. US electric car maker Tesla Motors Inc said Dec 12, 2014 its China president, Veronica Wu, has resigned, without giving a reason for her departure. [Photo / Agencies]
BEIJING - China's electric car production jumped fourfold to 83,900 vehicles in 2014, the Ministry of Industry and Information Technology said Friday.
In 2014, output of pure electric passenger cars rose 300 percent from a year earlier to 37,800, with plug-in hybrid passenger cars rising to 16,700 units.
Output of pure electric and plug-in hybrid commercial vehicles went up by 400 percent and 200 percent, respectively.
In December 2014, Chinese carmakers produced 27,200 new energy vehicles, four times as many as they did in December 2013.
Intense promotion by the government has brought more and more new energy vehicles onto China's roads, saving energy and combating pollution.
Measures including tax exemptions, price subsidies and requirements for government bodies to buy green cars are in place, however, new energy cars still account for only a tiny proportion of total output. In the first 11 months of 2014, the automotive industry produced 21.1 million vehicles.