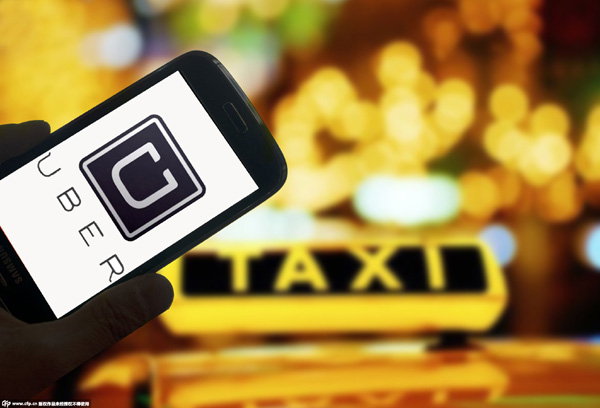 Uber's offices in Chengdu and Guangzhou are raided and inspected as the company failed to abide by administration regulations. [Photo/China Daily]
New law mulled
Chinese regulators are also studying and preparing to launch new laws that concern car-on-demand apps, said Dai Dongchang, acting Vice Minister of Transport, after the International Transport Forum.
The ITF at the Organization for Economic Co-operation and Development is an intergovernmental organization that acts as a think tank and organizes an annual summit of ministers of transport.
"The new trends are the results of openness and innovation. For regulators, the ultimate goal is to promote better development within the industry," added Dai.
Plouffe refused to share his projection on the legislation timeline, but added that demand is huge in China for both ride-hailing platforms and riders.
"We will engage as much as possible to provide information and answer questions and also to make clear that our mission is to help cities," he said.
"Once we get through regulatory issues, a really exciting conversation begins, which is how can we partner with cities to accomplish their economic, safety and environmental goals."
Uber Campaign
"Populations grow in the major cities of China. Congestion is already problematic and in many parts of China just as the major cities, something has to give it," said the once presidential campaign manager.
Young people need the assurance of reliable and portable transportation to give up their cars, said Plouffe, adding that Uber serves all parts of cities and takes reliability seriously.
Prior to joining Uber, Plouffe served as senior advisor to US President Obama from 2011 to 2013. He was reported to be the mastermind behind the 2008 presidential campaign and currently serves on the board of the Barack Obama Foundation.
"Uber has been in a campaign but hasn't been running one. That is changing now," wrote Travis Kalanick, CEO of the world's most valuable startup, in the announcement that Plouffe would manage all global policy and political activities and branding from September last year.
"The important thing is to deal with regulators, to make sure they understand we are here to help and that every country is different and we are going to have to be both agile and flexible about our approach," said the campaign veteran.