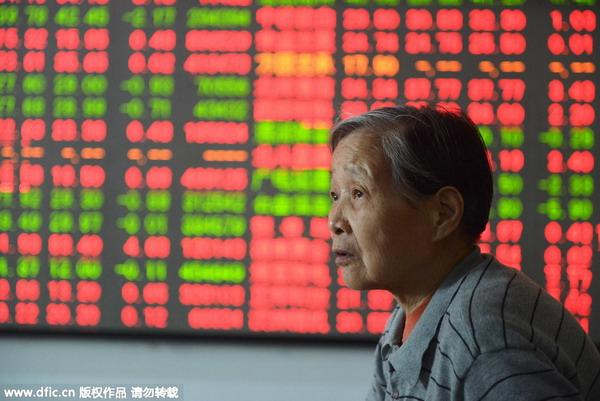 An investor pays close attention on the stock market at a securities brokerage in Hangzhou city, Zhejiang province, June 5, 2015. [Photo/IC]
China stocks remained volatile on Friday, with the Shanghai benchmark gaining 1.54 percent to close at a seven-year high of 5023.10 points, after shooting above the key psychological level at the opening but then shedding all gains by midday.
Shenzhen's ChiNext index, bellwether of the recent bull run, lost more over 1 percent, with investors becoming increasingly cautious about the growth market.
The Shanghai Composite Index opened above 5,000 points - a key technical resistance level - but ended the morning 0.1 percent lower, at 4,941.01 points. The CSI300 index fell 0.6 percent to 5,148.95 points.
Hong Kong stocks also fell.
High volatility has become a pattern in China's highly-leveraged market, traders said.
On Thursday, before a dramatic V-shaped turnaround, nearly $550 billion of market capitalization had been wiped out.
"It's no longer a market where you can go up and up, with no resistance," said David Dai, Shanghai-based investment director at Nanhai Fund Management Co Ltd.
He said his fund has cut exposure to ChiNext, which trades at 140 times earnings, and is increasing positions in cheaper blue-chips.
The Shenzhen market has caught the attention of Bill Gross, erstwhile Pacific Investment Management Co bond king and now portfolio manager of the Janus Global Unconstrained Bond Fund.
He said in his Twitter account on Wednesday that China's Shenzhen market would be the next "short of a lifetime", but "not just yet."
There are signs the Chinese government is rushing to take advantage of high stock valuations in the stock market.
Premier Li Keqiang said the government would promote domestic listings of start-up firms, while a growing number of Chinese tech companies firms have fallen out of love with America, as they look to drop their listings in New York and head back home.
"We're seeing higher risks in small-cap stocks," said Zhang Chen, analyst at Shanghai hedge fund manager Hongyi Investment.
"But many bluechip companies have attractive valuations. They may take up the baton and lead indexes higher."
Investors are waiting for index publisher MSCI's decision next week on including China A shares in its Emerging Markets index.
HSBC said including China A-shares in global benchmark indices would have huge repercussions, and potentially spur index inflows of billions of dollars.
On Friday, China's banking index lost nearly 3 percent as investors took profit, while real estate stocks were firmer.
The Hang Seng index dropped 0.9 percent at 15:17 local time, to 27,304 points, and the Hong Kong China Enterprises Index lost 1.24 percent, to 13,952.
He Yini contributed to the story.