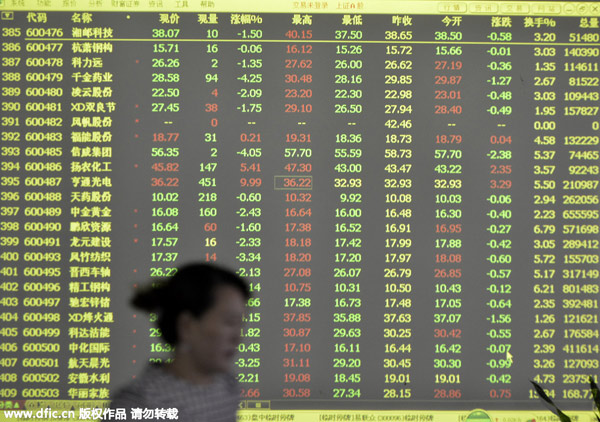 Investor at a securities brokerage in Chenzhou city, Central China's Hunan province, May 28, 2015. [Photo/IC]
BEIJING - Chinese shares plummeted on Thursday, with the benchmark Shanghai Composite Index diving 6.5 percent to finish at 4,620.27 points.
The Shenzhen Component Index plunged by 6.19 percent to close at 15,912.95 points.
The ChiNext Index, tracking China's Nasdaq-style board of growth enterprises, lost 5.39 percent to end at 3,432.98 points.
The plunge comes as a growing number of brokerages tightened requirements on margin financing - an important engine behind a red-hot rally that has made Chinese share markets the best performers in the world.
The fall was also triggered by some profit-taking ahead of a new flood of initial public offerings (IPO) next week, which some analysts estimate could freeze up around 5 trillion yuan ($807 billion) of liquidity.
On Thursday, at least three Chinese brokerages, including Guosen Securities Co, Southwest Securities Co and Changjiang Securities Co tightened margin financing rules to tame risks in the market, which has surged over 140 percent over the last 12 months, fueled in large part by a record amount of borrowed money.
Separately, the Shanghai Securities News reported on its website that regulators have recently urged banks to submit data regarding money flows into the stock market.
Tightening by brokerages is having an psychological impact on the market, which is already suffering from liquidity concerns ahead of the wave of IPOs next week, said Zhou Lin, strategist at Huatai Securities.
"It's a normal correction. I think the negative impact on the market could be just short-term as we see a lot of money continuing to flow into the stock market," he said.
"The government will likely continue to ease monetary policy, so the bull market will continue."
In its 2014 annual report published on Wednesday, China's central bank warned of deflationary pressure in the world's second-largest economy as it forecast subdued consumer prices for the year and a challenging growth outlook.
Most sectors were down in China, with financial shares and real estate stocks leading the decline.
In Hong Kong, Milan Station Holdings shares bounded about 4 percent after slumping 46 percent during the previous session. The company said it was not aware of any reasons for the share price tumble.
The holding company that sells handbags and other luxury items is the latest firm to be rocked by big price swings following Hanergy Thin Film Power Group and Goldin Properties Holdings last week.