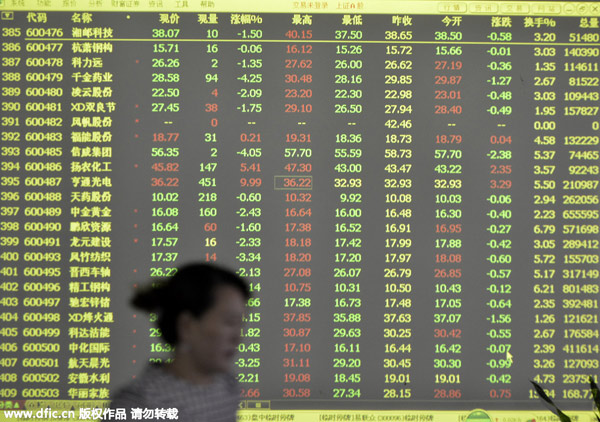 Investor at a securities brokerage in Chenzhou city, Central China's Hunan province, May 28, 2015. [Photo/IC]
Bubbles are not identifiable before they burst, so goes a well-known investment saying. For the government, it is better to focus on fostering a fair and clean market than attempting to intervene in the market in the name of defusing bubbles and protecting investors.
By Wednesday China's benchmark Shanghai Composite Index had climbed close to 5,000, more than double the level of a year ago, although it slumped by a rare 6.5 percent to 4,620. 27 at the close of the day on Thursday.
Before the "black Thursday", the wildly surging stock index has left many worried about the bursting of the bubbles, which they say would cause great losses for investors, especially those individual investors who have poured huge parts of their family savings into the stock market. They have urged the government to step in, as it has often done before, to prevent it from happening.
Indeed, the bursting of a stock bubble will deal a big blow to investors, and the government should prevent it from happening — if it really can. But the fact is, it is almost impossible for the government to know whether serious bubbles exist — serious enough to burst any moment. In such a case, any intervention would not only be unwarranted, but also could backfire and damage the image of the government.
Given the strong rise in the stock indexes, one can hardly deny that there are bubbles in the market. But it is hard to know how big the bubbles are and, therefore, whether measures should be taken to deflate them.
Even the most knowledgeable experts and stock market professionals are not sure whether it is time for the regulators to intervene. Some experts claimed the bubbles were already serious enough when the Shanghai index reached 3,000, while experts said they had reached a dangerous level when the index touched 4,000. Now that the index had reached 5,000, more people are saying it is high time the government intervened to stop the bubbles from growing.