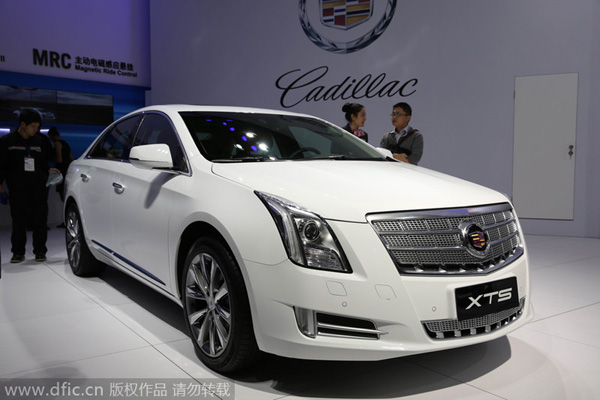 A visitor talks with an employee next to a Cadillac XTS of GM during the 11th China (Guangzhou) International Automobile Exhibition, known as Auto Guangzhou 2013, in Guangzhou, South China's Guangdong province, November 21, 2013. [Photo/IC]
General Motors and its joint ventures saw record China sales of 1,472,186 vehicles in the first five months of the year, an annual increase of 5.1 percent, after drastic price cuts. However, sales in May dropped 4 percent year-on-year to 252,567.
The company said May's drop in sales was primarily due to several model changeovers and the phase-out of older vehicles. GM's May sales saw improvements for SUVs and MPVs, which combined were up 21.8 percent, and Cadillac luxury models, which were up 10.9 percent.
Shanghai GM's sales rose 3 percent to 660,270 units between January and May, but in May slid 7.6 percent to 119,214 units.
GM China President Matt Tsien said in a press release "China's vehicle market continues to grow at a moderate pace. We expect about 6-8 percent annual growth, which is significant given the size of the world's largest passenger vehicle market."
"We continue to respond to shifting consumer preferences with more new products in the high-growth SUV, MPV and luxury segments, including the Baojun 560 and Buick Envision, as well as the Buick Verano and new Chevrolet Malibu sedans. In addition, we are increasing production to meet demand for the popular Envision."
SAIC-GM-Wuling, which makes popular passenger car Hongguang MPV, saw its domestic sales grow 10.4 percent to 809,657 units in the first five months of the year, and its May sales also climbed 2.7 percent. Wuling sales decreased 11.7 percent from May 2014 to 108,998 units, due in large part to a model changeover of the Hong Guang MPV.
Buick sales in the domestic market decreased 12.9 percent on an annual basis to 62,601 units. It was led by the Excelle XT and GT, which had sales of 15,311 units.
Chevrolet sales in China decreased 2.2 percent on an annual basis to 50,021 units. Its most popular nameplate in May was the Cruze, which sold 20,675 units, an increase of 6.6 percent year on year.
Cadillac sold a May record 6,592 units in China, up 10.9 percent year over year. Sales of the ATS-L and ATS totaled 2,758 units -- compared to 536 units in the same month last year.