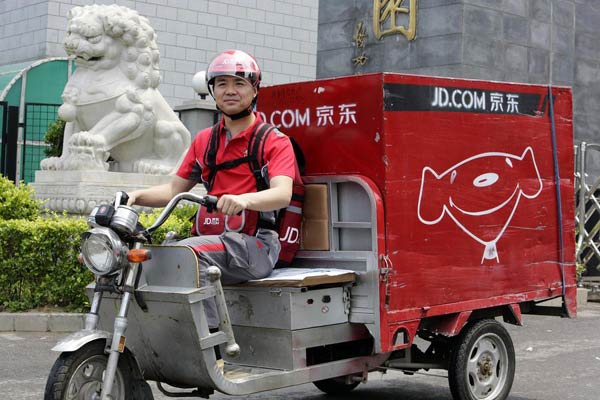 Richard Liu, CEO and founder of China's e-commerce company JD.com, rides an electric tricycle as he leaves a delivery station to deliver goods for customers to celebrate the anniversary of the founding of the company, in Beijing, June 16, 2014. [Photo/Agencies]
SHANGHAI - Chinese e-commerce giant JD.com and ZestFinance, a US-based financial technology company, announced on Friday to launch a joint venture to support the development of consumer credit in China.
The joint venture, called JD-ZestFinance Gaia, will combine JD.com's database of more than 100 million active customers with ZestFinance's machine learning underwriting technology to provide credit risk evaluation services to companies in China.
Lenders in China lack the data typically used in established markets to determine creditworthiness as Chinese consumers often have little-to-no credit history, creating a bottleneck for the development of China's consumption loans, said Yao Naisheng, vice president of JD Finance.
As the first customer of the joint venture, JD.com will use the services to provide new credit offerings to consumers.
China's consumer credit market will maintain a 20 percent annual growth between 2014 and 2017. The market will be worth 27 trillion yuan ($4.4 trillion) in 2017, according to iResearch, a leading Chinese research firm.
Related story: China's JD.com forges Russian tie-up to begin global expansion from Agencies
Chinese e-commerce giant JD.com Inc has partnered with Russia's biggest online retailer Ulmart, it said on Tuesday, in preparation for a push into its first foreign market.
Growing Internet connectivity has helped to drive Russia's online sales boom in recent years, attracting global players such as eBay and Alibaba.
Now JD.com plans to join the fray in an effort to tap a Russian market that has the largest number of Internet users in Europe, having overtaken Germany in 2011, according to Internet analytics firm comScore.
"The company embarks on global expansion today," Victor Xu, President of JD.com's international business group, told reporters.
"At the first stage, we position ourselves as a platform with emphasis on Chinese goods ... later, it will be a platform for global trade."
The volume of Russia's cross-border online trade is expected to double this year compared with 2014 and reach $14 billion, JD.com said, citing data from research firm GfK. It said China accounted for 63 percent of all Russian cross-border online shopping last year.
JD.com's and Ulmart, Russia's biggest online retailer by sales, aim to promote and sell goods offered on JD.com through Ulmart's platform, including its website and pick-up points.
The Chinese company will also launch its own Russian-language website on June 18. Shoppers can pay using credit and debit cards, as well as PayPal, and will soon be able to pay via electronic wallets provided by Qiwi and Sberbank's Yandex.Money.
In May JD.com also signed a cooperation agreement with Russian delivery business SPSR-Express.