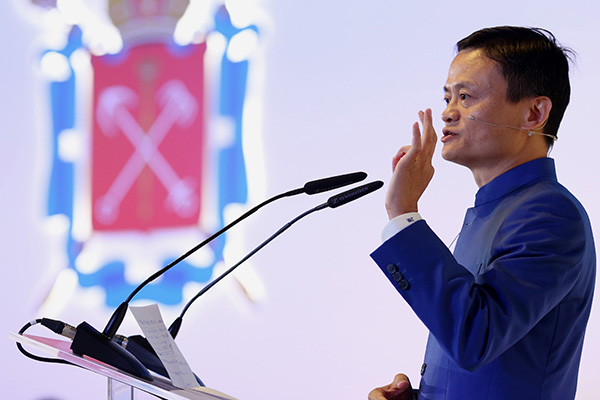 Jack Ma, founder and chairman of Alibaba Group Holding Ltd, speaks at the St. Petersburg International Economic Forum, Russia, on Friday. [Photo/Agencies]
The nation's top two e-commerce companies are gearing up in the Russian market as they seek overseas growth.
Alibaba Group Holding Ltd, China's biggest e-commerce player by revenue, and JD.com Inc, the largest online direct sales company, plan to expand their operations in the country, where online shoppers are eager to buy made-in-China products.
Jack Ma, founder and chairman of Alibaba, said in an interview with Xinhua News Agency that his company will invest more in human resources and technology in Russia.
Interviewed on the sidelines of the St. Petersburg International Economic Forum, held between Thursday and Saturday, Ma said that there are promising prospects for e-commerce in Russia.
"Although we have only one employee in Russia, AliExpress has managed to become the most-visited e-commerce website in the country," he said.
Launched in 2010, AliExpress allows shoppers around the world to buy small quantities of goods at wholesale prices.
According to Alibaba, "hundreds of thousands" of packages are sent from China to Russia on a daily basis.
JD, Alibaba's major competitor, officially launched a Russian-language site on Friday to tap the cross-border e-commerce market.
Despite Russia's sluggish economy and its weak currency, Victor Xu, who is in charge of JD's development in Russia, sees great potential in the country's cross-border e-commerce business.
"Russia is Europe's largest Internet market by audience and has fast-growing e-commerce," Xu said during a Moscow news conference to launch the new site.
According to Russian Post, the national postal operator, about 80 million online purchases were made by consumers from e-commerce sites based outside Russia in 2014. About 80 percent of such cross-border purchases were made in China.
Russian Post plans to launch an express train service by the end of the year to cut delivery time from China. That process now takes about 14 days.
Alexei Skatin, deputy director-general of Russian Post, said at the same forum that express train services will also boost shipping capacity.
An increasing number of Chinese e-commerce companies are seeking to grow outside China.
A recent joint study by multinational consultancy Accenture Plc and AliResearch, Alibaba Group's research arm, forecast that the global business-to-customer cross-border e-commerce market will balloon in size to $1 trillion in 2020 from $230 billion in 2014.
"Russia can be a very lucrative market for Chinese players because there is no strong local e-commerce competitor," said Lin Wenbin, e-commerce analyst with Analysys International.
Lin said that competitively priced consumer goods that offer high quality are in huge demand in Russia. "This is an area where made-in-China has a competitive edge."