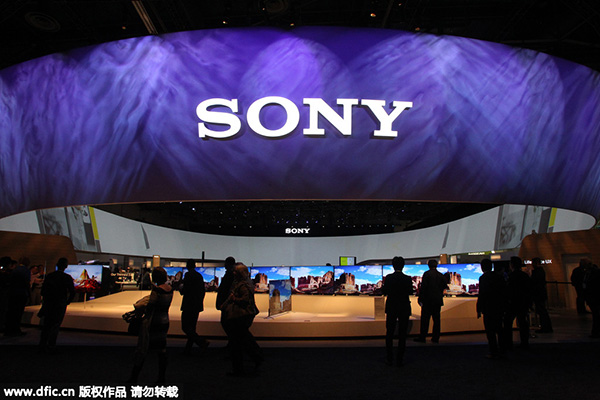 Sony booth with the 4k ultra HD 65 inch TV's at the 2015 International Consumer Electronics Show in Las Vegas, the US, Jan 7, 2015. [Photo/IC]
Sony Corp is targeting younger Chinese customers particularly from within the rising middle class with its high-end consumer electronic products and image devices as part of a three-year plan to return to profitability without simply chasing volume.
The Japanese company is hoping for 10 percent growth by 2017 to an operating profit of more than 500 billion yen ($4.07 billion), with the Chinese market being a priority alongside the United States, said Nobuki Kurita, president of Sony China Co Ltd.
He said that high-resolution 4K television sets will become a key driver with its new technology being driven by Chinese consumer preferences.
Its newly launched, extremely slim set, which is even thinner than some smartphones, for example, was the perfect answer to the growing trend by Chinese to hang their TVs on the wall, Kurita said.
Sony is also eyeing imaging products and solutions, including 4K filming facilities, transmitting vehicles and digital projectors for theaters in China, said the president.
Its device segment, meanwhile, including sensor for camera of smartphone, would also feature strongly.
Kurita said that Sony's accessories and parts business in China for smartphones increased 30 percent in the fiscal year 2014.
In the year ended March 31, 2015, Sony's total sales were 8.2 trillion yen, an increase of 5.8 percent compared to the previous year.
The increase was primarily due to the impact of foreign exchange rates, a significant increase in games and network services sales, driven by a strong performance by the PlayStation 4, and a strong performance from its devices division.
The increase, however, was partially offset by a significant drop in revenue after the company exited the sales of PCs. Sony's operating income increased 42.1 billion yen year-on-year to 68.5 billion yen, attributed to a strong improvement in segments including devices, games and network services, and home entertainment and sound.
Last July, Sony Visual Product Inc started to operate independently from the group.
In the year ending March, its operating income from home entertainment and sound reached 20.1 billion yen, compared to an operating loss of 25.5 billion yen the previous year. Among that segment, television sales increased 10.7 percent year-on-year to 835.1 billion yen.