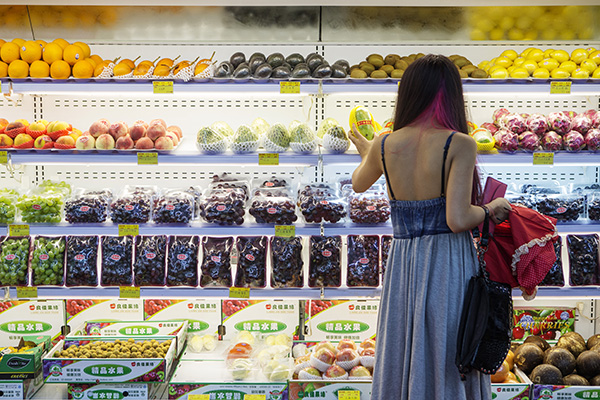 Looking for a healthy eating option. A customer stops at the fruit section of a supermarket in Beijing. [Photo/China Daily]
Demand for the fruit in China has been increasing due to its growing reputation as a fashionable food among the middle class
Zhang Kexin is in her mid-20s and works in the public relations department of a State-owned company. But she still remembers the first time she tasted avocados.
Her first contact with the fruit was when she was in primary school after a close friend sent some as a gift for the family.
Zhang admitted that her first experience was not particularly pleasant. "At that time, I felt that avocados had no real taste," she said.
But her views changed after she moved to the United Kingdom and tried the fruit in different dishes, especially in salads and sandwiches. Since then, it has been a lasting love affair with avocados. Although she does not eat the fruit as often as she did when living in the UK, she still samples it once or twice a month in China.
Zhang is just one of the many professionals here who has developed a taste for avocados. Demand for the fruit has been increasing steadily due to its growing reputation as a fashionable food. It is now an integral product in China's supermarkets.
But back in the early 2000s, avocados were shipped and sold only in the country's largest cities, such as Beijing, Shanghai and Guangzhou, where there were a high concentration of foreigners.
And only a small selection of large hotels with expatriate cooks included the fruit on their menus.
"Our company first began importing avocados in 2013," Jim Provost, vice-president of the North American sourcing for Chinese fruit distributor Lantao, said. "At that time, sales of avocados on Chinese mainland were typically directed to hotel trade."
"We recognized there was an opportunity because of the growth that occurred in other Asian markets such as Japan and South Korea," he added.
As Western food became more popular in China, the fruit ended up on the shopping lists of the country's rising middle class.