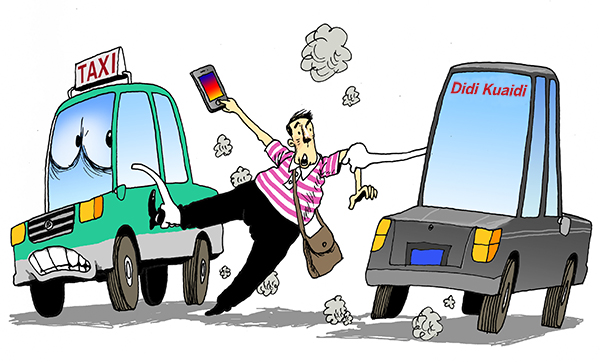 Angry taxi drivers say Didi Kuaidi interferes with their 'normal and lawful' operations
Didi Kuaidi, China's dominant ride-hailing company, keeps growing even as it faces challenges on two fronts: profit-pinched taxi companies are threatening a lawsuit and local governments are considering more regulations.
Several taxi firms in Ji'nan, Shandong province, say Didi Kuaidi's ride-hailing services have extensively affected their "normal and lawful" operations, and they plan to file a class-action lawsuit against the smartphone-based transportation services company, Ji'nan Daily reported.
The newspaper said managers from competing taxi firms have consulted with lawyers. Didi Kuaidi declined to respond to the dispute, saying only that it would take necessary measures should a lawsuit be filed, according to the report.
The legal challenge was welcomed by many taxi drivers across the nation as they said Didi Kuaidi's chauffeur and ride-hailing operations have seriously eroded their businesses.
A driver for the Kangle Taxi Co in Chongqing, who asked to be identified only as Zhang, said his daily income had sharply declined.
"Some white-collar office workers used to take my taxi every day, when they came to work or returned home, but now several of them have turned to the car-sharing service by Didi Kuaidi, because those private car owners are their colleagues and charge less than taxis," he said.
"Moreover, some high-income people, especially female office workers, are gradually becoming fond of calling a chauffeur from Didi Kuaidi, who usually drives a nice car," Zhang said. "Taxi drivers, including me, have submitted complaints to our companies, hoping managers could urge the government to do something to help us."
Song Guangcun, a driver at the Beijing Longxiang Taxi Co, said some taxi drivers have quit to work for Didi Kuaidi.
"They told me that working as a chauffeur at Didi Kuaidi will earn them more money than in the taxi company," he said. "If the city government can't take effective measures to curb Didi Kuaidi's development, our business will be strongly hit and no one will be willing to become a taxi driver."
In some major cities, angry taxi drivers have resorted to complaints and strikes. Others have gone further, such as the more than 100 taxi drivers in Zhengzhou, Henan province, who besieged Didi Kuaidi's headquarters on May 27 and smashed at least two private cars signed up with the service.
The Zhengzhou drivers' act might have been inspired by their peers in Tianjin, who gathered hundreds of taxis on May 21 to surround a small group of Didi Kuaidi drivers. A fight broke out and police had to be called to disperse the crowd.
Around the same time, several taxi drivers in Zhejiang province's Hangzhou forced a Didi Kuaidi driver to stop at a transport inspection station, where he was accused of unlicensed commercial operation. Inspectors seized the car.