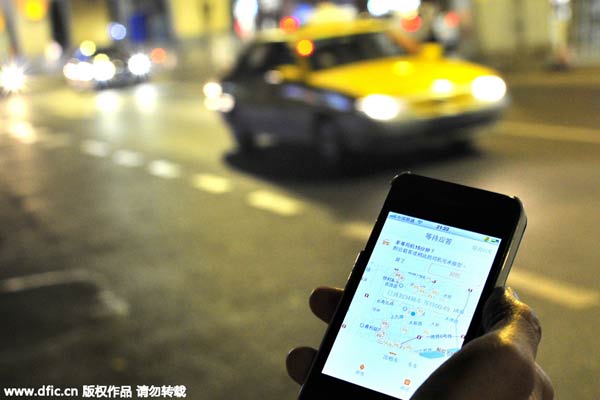 A man uses taxi-hailing app on his smartphone on a road in Guangzhou city, South China's Guangdong province, April 9, 2015. [Photo/IC]
Didi Kuaidi, the nation's largest taxi-hailing app provider by market share, launched a car-pooling service on Monday in Beijing, the latest effort to expand its presence in the country's transportation sector.
As the second new service launched after the merger of Didi and Kuaidi, the company said the ride-sharing service will initially be available on Didi's platform. The service will expand to 26 cities within this month, the company said in a press release.
"Based on the massive data we have accumulated in the past three years, we can match users and ideal drivers within seconds. That is why we were confident enough to offer the new service," said Liu Qing, president of Didi Kuaidi.
"The users of our taxi-hailing and chauffeur services will naturally migrate to our ride-sharing platforms," Liu said. Didi Kuaidi is financially backed by Internet giants Tencent Holdings Ltd and Alibaba Group Holding Ltd.
"We have already recruited one million drivers who are willing to share their cars," said Huang Jieli, general manager in charge of car-pooling services at Didi. "By the end of this year, we aim to handle one million rides every day."
To protect all parties involved, the company will verify phone numbers and WeChat accounts, and it will also insure each trip in the amount of 500,000 yuan ($80,000).
The service was launched the day after Shanghai traffic and transport authorities launched an online car-hailing service platform with Didi Kuaidi. This is the first step for the mobile platform to win legal recognition from Chinese authorities.
Didi Kuaidi, created in a merger between rivals Didi and Kuadi in February, has some 160 million users and provides nearly 6 million rides a day.