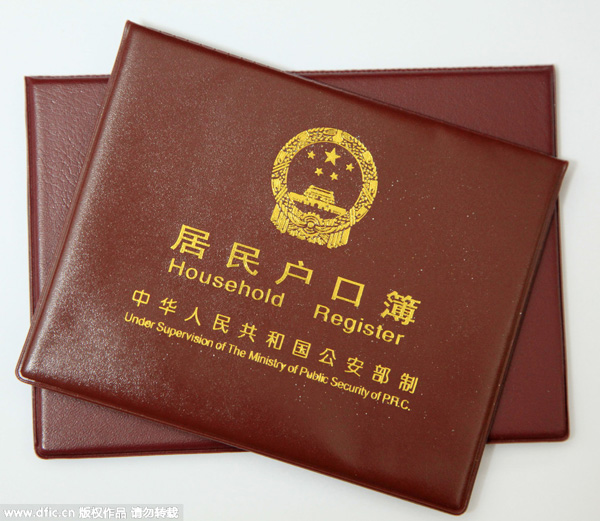 Reform of the household registration system (hukou) could have the most direct impact on the economy as the nation's traditional advantages such as cheap and abundant labor wane, a top economist told China Daily. [Photo/IC]
Lack of residence rights leads to short-term decisions in education, vocational training
Reform of the household registration system (hukou) could have the most direct impact on the economy as the nation's traditional advantages such as cheap and abundant labor wane, a top economist told China Daily.
Cai Fang, vice-president of the Chinese Academy of Social Sciences and a top expert on labor economics, identified hukou reform and education reform as the two critical steps needed to enhance long-term growth prospects in the nation.
"Hukou reform is like 'killing three birds with one stone'. It would ensure the stability and improvement of the labor force, raise productivity and boost migrant workers' consumption," Cai said.
A severe shortage of workers has hit labor-intensive industries in coastal areas, with factory owners struggling to find staff even after raising compensation significantly.
The growth rate of migrant workers fell to 1.3 percent last year from the 4 percent recorded from 2005 to 2010, and the absolute number contracted in the first quarter of this year, said Cai.
While shrinking labor supplies drive up pay for migrant workers and keep their unemployment rates relatively low, Cai said that the situation creates some risks.
"Employment of migrant workers is concentrated in industries that have excess capacity or are vulnerable to cyclical downturns. Lacking skills, they are the first to be hit when consolidation in these sectors takes place," he said.
"That's why although the unemployment rate is low and China is well on track to achieve its annual new jobs target, Premier Li Keqiang has repeatedly urged precautionary action," he said.
Another problem, he said, is that the hukou situation makes it irrational for migrant worker parents to put money into educating their children beyond junior high school. Keeping children in school beyond that point costs the family a huge amount of money.
"Many of these children lose interest in the classroom. They drop out at an early age and rush into the labor market. The hukou system also erodes employers' incentives to provide training, because their employees switch jobs so often," Cai said.
The result is an unskilled workforce that is ill-prepared for any economic shock.
One suggestion offered by Cai is to make high-school education free or even offer subsidies to persuade parents to educate their children to higher levels.
Cai said that the hukou system, which bars migrant workers from formal urban residence status and the associated social benefits, has made them extremely "shortsighted" in the labor market. They jobhop for the slightest extra money, have no appetite for training and "retire" to the countryside in their 40s.
Hukou reform would not only help them to make long-term decisions that would ensure a stable income after retirement; it would also get them to "spend like an urban resident", which would contribute to the rebalancing of the economy toward consumption, he said.
However, Cai is not pessimistic about China's prospects. Even without a substantial dividend from reform, the potential GDP growth rate will be 6.2 percent from 2016 to 2020, he said. That is enough to realize the targets of doubling GDP and household incomes from 2010 to 2020.
"Now, proposed reforms should take aim at the years beyond 2020," he said.