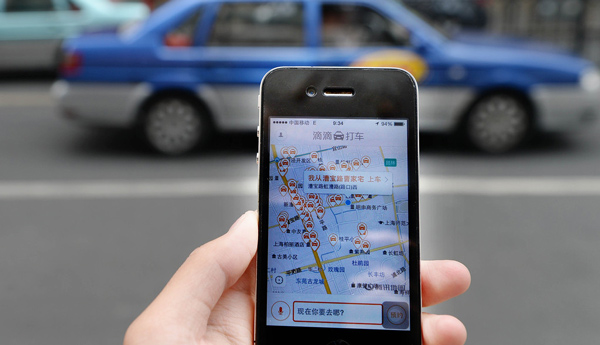 A Chinese mobile phone user uses the taxi-hailing app Didi Dache backed by Tencent on his smartphone in Shanghai, China, 16 October 2014. [Photo/IC]
Didi Kuaidi, China's largest taxi-hailing app provider by market share, said on Friday that it expects to serve 30 million people a day in three years.
Cheng Wei, chief executive officer of Didi Kuaidi, said that the company would expand aggressively to consolidate its market share and spend 1 billion yuan ($161.39 million) on promotions.
According to Cheng, Didi Kuadi, backed by rival Internet giants Tencent Holdings Ltd and Alibaba Group Holding Ltd, about 4 million taxi and 1.5 million premium car orders are made every day through its taxi-hailing app. Its services are available in 360 Chinese cities and it has 1.35 million drivers. Its premium car services are available in 61 cities with 400,000 drivers.
"Didi Kuaidi, created in a merger between rivals Didi and Kuadi in February, has 160 million consumers now," said Cheng. Alibaba and Tencent together hold 23 percent stake in Didi Kuaidi, with each owning between 10 and 13 percent.
Wang Xiaofeng, an analyst at global market research firm Forrester Inc, said: "The taxi-hailing market in China is huge and the company will have to work hard on improving its marketing and services to stay ahead of rivals."
Its main rivals in China include Uber Technologies Inc, the $40-billion US startup backed by Chinese search giant Baidu Inc and local firm Yidao Yongche.
On Friday, the company said it will spend 1 billion yuan to provide free rides to commuters from its chauffeur services every Monday. The promotions will be offered in 12 cities and last for a month starting May 25. "Around 10 million customers will benefit from the new promotional event," Cheng said.
Meanwhile, a new additional service named "absolute comfortable experience" will be introduced in the company's premium car service by the end of May. It is an updated service standard including software and hardware, Cheng said.
The premium cars using the new standard will provide more hardware, such as breathing masks, wet tissues and bluetooth headsets. Drivers will be those who have undergone a seven-day special training and personality test.
Cheng said that passengers would need to pay 30 percent more for the additional services. Didi Kuaidi also said on Friday that it has a full product line comprising basic cab calling, premium cars and carpooling drivers. "We plan to create the world's largest one-stop ride platform and move all the transport tools to the Internet," said Cheng.
However, the legality of car-hailing apps, especially private cars, is still in doubt.
The Ministry of Transport barred private cars from offering unlicensed taxi rides in January, while some local governments have fined unauthorized cars for accepting orders from smartphone apps and providing driving services.
The situation is, however, changing due to the huge market demand. Shanghai will launch an online car-hailing service platform on June 1, jointly operated by the traffic and transport authorities, taxi companies and Didi Kuaidi. It will be the first city in China to legalize car-hailing apps.