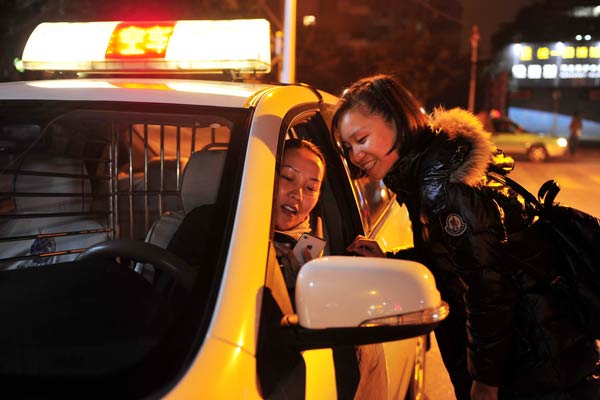 A taxi driver checks her smartphone with a passenger in Fuzhou, East China's Fujian province, Dec 12, 2014. [Photo/CFP]
China's two largest mobile taxi-hailing apps are discussing a merger that could end their escalating battle to win customers and create a dominant player, reported Wall Street Journal, citing people familiar with the situation.
According to the paper, Didi Dache backed by Chinese Internet behemoth Alibaba Group Holding Ltd and Kuaidi Dache backed by Tencent Holdings Ltd are in advanced stage of talks, but the plan hasn't been finalized yet and needs the support of their primary investors.
Unless the talks fall apart, a deal could be announced in the coming days, told a source to the paper.
Alibaba and Tencent could hold equal stakes in the combined company valued at around $6 billion, said the source.
As both the companies haven't yet publicly commented on the deal, the Internet is abuzz with rumors.
An investment banker, who wished to remain anonymous, told Sina Technology that the two companies have discussed merger many times. "The biggest challenge is from capital level. Investors from both sides are pushing forward this deal and a stock-for-stock merger will be seen at a certain time."
"The equity ratio could be 52 percent for Didi and 48 percent for Kuaidi," said the business channel of Tencent.
After the merger, the mobile payment platform embedded in the two apps will have both Alipay and WeChat Wallet, the two payment solutions backed by Alibaba and Tencent, respectively, said the report.
"Possibility for the two companies' discussion about merger is big, while feasibility is tinny," said TMTpost.com, a Chinese technology website.
The mobile payment platforms behind the two apps are locked in a battle to attract users during the Spring Festival holidays. (Festival Special: Apps that help commuters avoid rush)
"There won't be such intense competition before an announcement for a merger," said the report.
To promote their mobile-pay applications, the two apps have invested heavily to subsidize both taxi drivers and passengers to grab more market share.
In December, 2014 Didi Dache raised $700 million in its fourth round of fundraising.
On Jan 15, 2015, Kuaidi Dache announced that it had raised $600 million to strengthen its position in the hotly contested market.