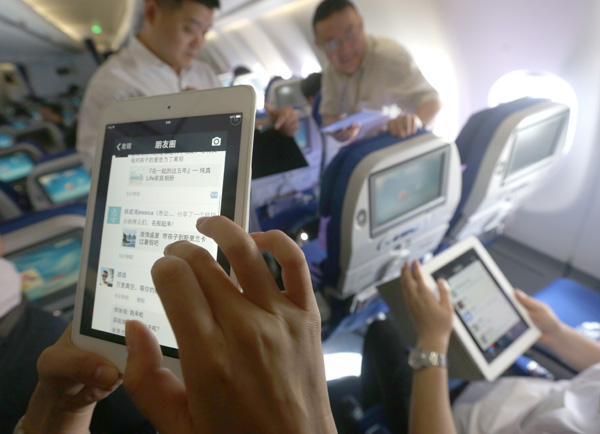 Passengers use WiFi services to surf Internet on mobile gadgets on a flight of China Eastern Airlines. [Photo/China Daily]
China Eastern Airlines has become the first Chinese carrier to provide Wi-Fi services on both domestic and international flights.
The carrier got approval from the Ministry of Industry and Information Technology to use AsiaSat-6 satellite for Wi-Fi services on its 21 airplanes from Friday. The inflight Wi-Fi services are expected to be launched in a month as the carrier still needs to complete some formalities.
China Eastern said it plans to offer inflight Wi-Fi services in its Airbus 330 and Boeing 777-300ER planes, which are all widebody aircraft for long-haul routes. It is also the first time that the ministry has given Wi-Fi approval for such a large fleet.
The satellite technology used by China Eastern enables it to reach most of the intercontinental routes, which is also a first for Chinese carriers, said industry sources.
China Eastern plans to make its entire fleet Wi-Fi enabled by 2017 or 2018, and plans to use the in-flight services for commercialization, the company said in a statement.
From this year, all the new aircraft that will be delivered to China Eastern will be equipped with Wi-Fi, while installations in other aircraft will be made gradually, said Zeng Yongchao, deputy general manager of China Eastern's marketing department.
Other Chinese airlines are also waiting for approvals from the ministry, said sources.
Statistics from the Civil Aviation Administration of China show that around 390 million domestic passengers took flights in 2014 and they spent about 1 billion hours in the air during the whole year.
"The commercial aviation industry has to pay attention to meet the demands of passengers, giving them the freedom to stay connected whenever and wherever they want," said Jack Jacobs, vice-president of Honeywell Aerospace's marketing and product management, one of the world's main aviation systems providers.
A Honeywell survey in the United States confirmed that consumers are accustomed to easy access to Wi-Fi and they expect the services to be fast and consistent like at home or work, said Jacobs.
"Those expectations are now expanding into the sky," he said.
Prior to the approval from the ministry, Chinese carriers like Air China, Hainan Airlines and China Eastern had already conducted Wi-Fi tests on some flights. The data collected from such flights were used for the policymaking process, said sources.
The next stage for the carriers is commercialization of the new service.
Air China has set up a special office for in-flight Wi-Fi services, while China Eastern is looking to build a subsidiary company for e-commerce this year.
The new company will be responsible for the carrier's online businesses, including in-flight Wi-Fi.
"The in-flight Wi-Fi service could bring some new business opportunities, especially in social media and data services," said Zou Jianjun, a professor at the Civil Aviation Management Institute of China.