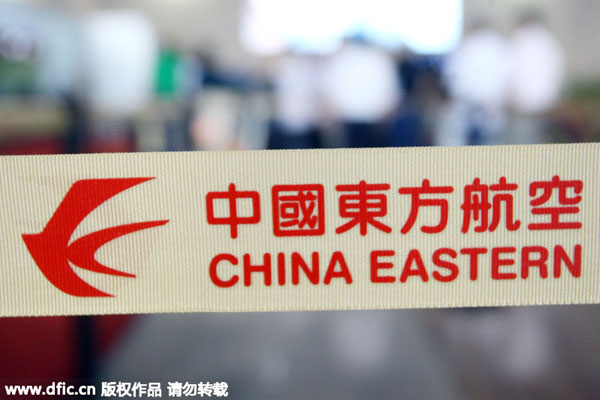 A signboard of China Eastern Airlines is seen at the Shanghai Pudong International Airport on Sept 23, 2014. [Photo/IC]
SHANGHAI - China Eastern Airlines said Thursday it plans to raise no more than 15 billion yuan ($2.4 billion) through a private placement in Shanghai.
In a statement filed to the Shanghai Stock Exchange, the airline said the offering price will be set at no lower than 6.44 yuan per share, or 90 percent of the average share price during the 20 previous trading days.
The money raised through the non-public stock sale will be used to expand its fleet and pay off bank loans.
It will use 12 billion yuan to buy 23 passenger aircraft, like Airbus A321, Boeing B737-800 and B737-300ER.
Low fuel price, global economic recovery and booming demand for air travel have driven China Eastern to post strong profit growth.
Last Thursday, it forecast its Q1 net profit to be between 1.5 billion yuan and 1.6 billion yuan, versus a loss of 205 million yuan in the same period last year.