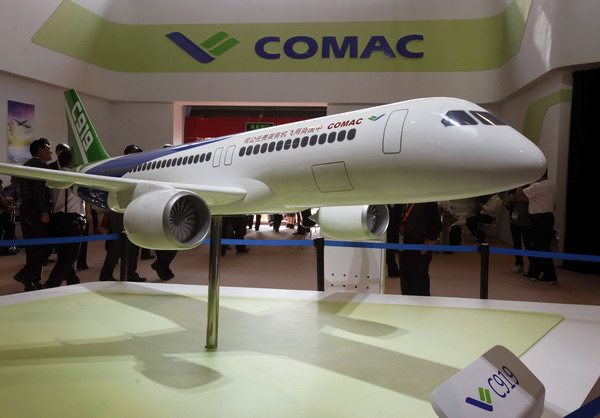 A model of the Comac C919 passenger plane, which is built by the Commercial Aircraft Corporation of China (COMAC), is displayed on the first day of the China International Aviation & Aerospace Exhibition, in the southern Chinese city of Zhuhai. [File photo / Agencies]
China's first domestic large commercial jetliner the C919 has received 500 orders so far, its manufacturer Commercial Aircraft Corp of China (COMAC) said on Monday.
COMAC received orders on the opening day of the 51st Paris Air Show, reported chinanews.com. PuRen Germany Gmbh, owned by China PR Group Co, signed the order for seven of COMAC's shorter-range regional ARJ21-700 and seven C919. Ping An International Financial Leasing Co signed for 50 of C919 at the show as well.
Tian Min, general accountant of COMAC, said that the company will follow the international airworthiness standard and provide safer, more economical, comfortable and environmental jets.
According to previous media report, the first delivery of the C919, a narrow-body airplane with 156 to 168 seats considered a future competitor of the Airbus 320 and Boeing 737, will be pushed back to 2020.
Industry experts said that potential delays in delivery of new aircraft are not rare in aviation industry, adding that China must secure the safety of the jets giving the lack of technology and experience in developing commercial jets.