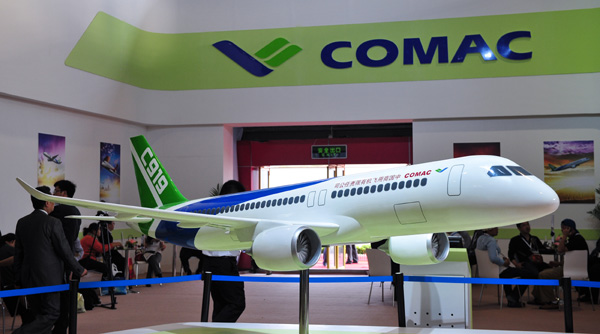 A C919 model on display at an aviation expo in Zhuhai, Guangdong province. [Photo/China Daily]
But plans for China's first large commercial jetliner still 'going well', insist officials
The maiden test flight of China's first domestic large commercial jetliner the C919, originally planned for this year, may be postponed until 2016.
"The exact time of the maiden test flight will be announced by the end of this year, depending on the progress the project has made by then," its builder, Commercial Aircraft Corp of China, said in a statement provided exclusively to China Daily.
Reuters reported on Thursday that the first delivery of the C919, a narrow-body airplane with 156 to 168 seats considered a future competitor of the Airbus 320 and Boeing 737, will be delayed from 2018 to 2020, but COMAC said that date was unconfirmed.
Officials insisted in its statement that "the research and development of the C919 is going well at present", and that any delay in the test flight did not mean the project had hit turbulence.
A source at the manufacturer said work will focus this year on the airplane's assembly, but could not confirm any planned delivery schedule, as the aircraft still needs certification from the Chinese aviation authorities before dates are announced.
So far the C919 has received 450 orders from 18 domestic and foreign clients.
But judging by the experience of COMAC's shorter-range regional ARJ21, C919 deliveries could still be some way off, as the ARJ21 took six years to gain certification.
Wang Ya'nan, deputy editor-in-chief of Aerospace Knowledge magazine, said potential delays of new aircraft are not rare in the global aviation industry. "A delay only means that the actual progress and anticipated progress might have changed, rather than any major setback," he said.
Even aviation industry giants such as Airbus SAS and Boeing Co have had the launches of new models delayed by national regulators.
Boeing launched its 787 Dreamliner project in 2004, but the first deliveries were not until 2011, three years behind its original schedule.
According to Wang, delays are often caused by any new materials or technology being used. He said the market still has confidence in the China-made C919, as it has followed international standards from its early stages of development.
"There should be no concern about C919's safety and reliability," he said.
The C919 is not China's first attempt at building a large-scale commercial airliner.
The country worked on the Y-10, a narrow body airplane with four engines, in the 1970s and 1980s, but the project was shelved over the aircraft's profitability and feasibility.