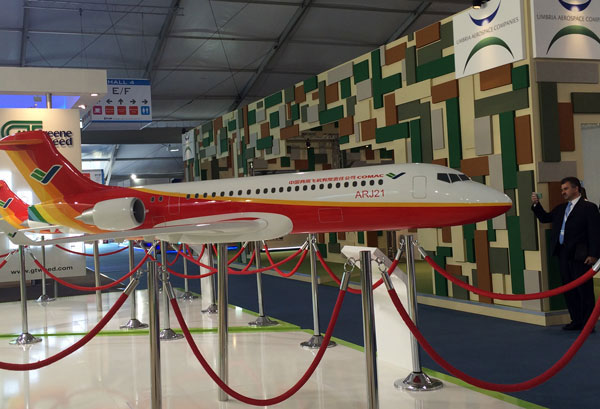 A model of ARJ21700, China's homegrown regional jetliner, on display at the Farnborough International Airshow, which opened on Monday. Total orders for the aircraft now stand at 258. WANG WEN / CHINA DAILY
Commercial Aircraft Corp of China Ltd said on Monday that it had received six orders for the ARJ21, the China-made regional passenger airliner, at the Farnborough International Airshow in the United Kingdom.
The new orders, from three clients, boost the total orders for the ARJ21 to 258. The aircraft is expected to get airworthiness certification from the authorities by the end of the year, said company officials.
Yanshang Corp, a Shanghai-based company involved in finance, real estate, international trade, automobile and law businesses, signed an agreement to purchase an ARJ21 and is expected to be the first launch customer for the business jet. Nanshan Group, based in Shandong province, also signed a purchase agreement for two of the jets.
"The signing ceremony indicates that Yanshang Corporation approves and expects the ARJ21 business jet. With this, the continued development of the ARJ21 aircraft has taken the first substantive step," said Tian Min, chief financial officer of COMAC.
The
Mini
stry of Transport of the Republic of Congo also signed a purchase agreement for three ARJ21-700 jetliners and will become the first African country to purchase and operate the aircraft.
Air transport demand in the Republic of Congo is slated to go up every year, and the wide market adaptability and range-covering capability of the ARJ21 make it ideally suited for the African terrain, said Rodolphe Adada, secretary at the Ministry of Transport, Republic of Congo.
"We look forward to the delivery and operation of these three aircraft at an early date," he said.
The Republic of Congo is an important customer for COMAC as it provides springboard for the African market, Tian said.
As a regional jetliner with 78 to 90 seats, the ARJ21 mainly targets Southeast Asian and African regions, and clients from these areas account for 10 percent of the total orders.
COMAC plans to make 20 ARJ21 aircraft every year from 2018, said Dang Tiehong, deputy general manager of COMAC's sales and marketing department. He said that the first overseas customer can expect to get the aircraft in 2016 or 2017.
ARJ21 has already gone through all the items on the ground and 70 percent of the items on the air to get certification, Dang said. "We are very optimistic about the progress now."
Another product of COMAC - the C919 - will get more orders this year, as well, Dang said. The China-made large passenger aircraft already saw 400 orders from 16 customers by October.
The maiden test flight of C919 is expected to be conducted in 2015 with deliveries by 2018.