COMAC's first US subsidiary set to take off
Updated: 2013-11-26 07:31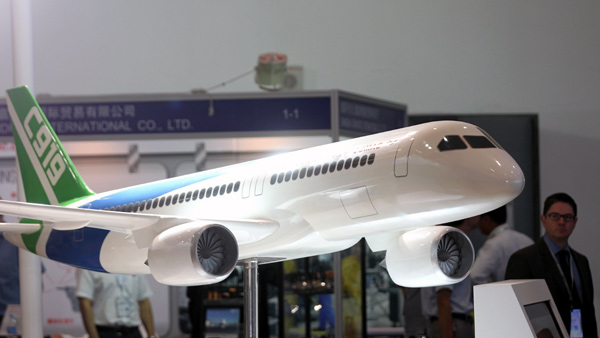 A C919 model on display at Aviation Expo China 2013 on Sept 25.[Photo / China Daily]
Move marks a milestone for Shanghai-based aircraft maker
Commercial Aircraft Corp of China (COMAC) launched its first overseas company known as COMAC America Corp on Nov 23 in Newport Beach, California.
It's a milestone for the Shanghai-based Chinese aircraft maker's move to go global. At the opening ceremony, COMAC Chairman Jin Zhuanglong said that before setting up its US operation, COMAC had already formed cooperation projects with 16 global suppliers, including General Electric Co, UTC Corp and Honeywell International Inc.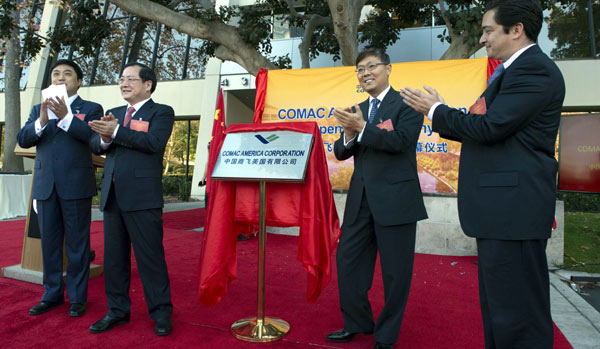 Jin Zhuanglong (the second on the left), Chairman of Commercial Aircraft Corp of China and Liu Jian (the third on the left),the Chinese Consul General in Los Angeles attend the opening ceremony of COMAC America Corp on Nov 23, 2013 in Newport Beach, California. [Photo / Xinhua]
According to Jin, COMAC has been working with Boeing Co in areas such as emission studies in China and has sent its employees to be trained at US universities. The company's overall goal, he said, was to be an active part of the global aviation innovation force.
"The launch today is an important step in realizing COMAC's goal of becoming a top-level world-class civil aviation company," he said.
As the first wholly owned overseas subsidiary of COMAC, the US operation was launched with a clear operating principle of "global management, local talent". In North America, the company will recruit aerospace specialists to provide services in engineering technology and management consultancy in the civil aviation industry.
Other COMAC America functions will include business development in airworthiness certification, supplier management, marketing, customer training and staff training.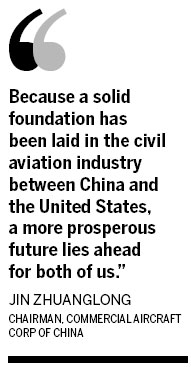 COMAC launched its US operation prior to delivery of its two regional jets - the C919 and ARJ21. Jin said that COMAC is currently conducting air tests on the ARJ21 (Advanced Regional Jet for the 21st Century) and will deliver the first one next year. The C919 jet is in the process of engineering development and is scheduled for a first flight and delivery in 2015.
Jin recognized huge potential in the civil aviation industry of China and the United States.
"Because a solid foundation has been laid in the civil aviation industry between China and the United States, a more prosperous future lies ahead for both of us. We hope our two governments will make concerted efforts in creating a harmonious and mutually beneficial environment for business cooperation and further enhance communications and exchange in the industry," he said.
The Chinese Consul General in Los Angeles, Liu Jian, said at the ceremony that the first free economic zone in Shanghai and the Third Plenary Session of the 18th Central Committee of Communist Party of China certainly show China's dedication to deep reform. "It will provide more space for China and US cooperation," Liu said.
Jeff Malin, a senior business development specialist with the California Governor's Office, expressed appreciation for COMAC's $50 million investment in California and the jobs that would follow.