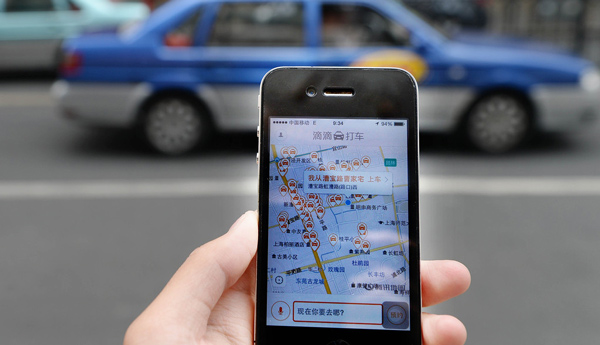 A Chinese mobile phone user uses the taxi-hailing app Didi Dache backed by Tencent on his smartphone in Shanghai, Oct 16, 2014. [Photo/IC]
Didi Kuaidi, China's largest mobile-based car-booking company, said on Wednesday that it had raised $2 billion from its latest round of fundraising, with even more powerful investors on board.
With a claimed cash reserve of about $3.5 billion and the goal of building itself into a one-stop transportation service provider, Didi Kuaidi is expected to trigger more competition in China's already highly competitive online car-booking market.
Beijing-based Didi Kuaidi said at a news conference that it had encountered tremendous interest from global investors, including Capital International Private Equity Fund, Ping An Ventures and Temasek, and it is looking to raise a further few hundred million dollars from new investors before the final closing in the coming month.
The huge amount of funding makes Didi Kuaidi the mobile Internet company that pooled the most money in a single round of fundraising. In 2011, Facebook Inc raised $1.5 billion and Airbnb Inc raised $1.5 billion in its fundraising round.
"Burning" the huge amount of cash on offering financial incentives and luring users from rivals is not going to be the focus of the company's next move, said Liu Qing, president of Didi Kuaidi. She said that the firm would pour the money into research and development to make the app the "everything store" in transportation service.
Rather than having separate apps for different kinds of car-booking services, Didi Kuaidi has integrated various transport solutions, including taxi-hailing, private cars and ride-sharing, into one app and it plans to add carpooling, chauffeur and bus services in the future.
"Chinese users have diversified needs in transportation and we want them to fulfill every single demand on our platform rather than install seven different apps for seven different types of transportation demand," said Liu.
To reach the goal, Didi Kuaidi has started to seek talent around the world to ensure its platform can be intelligent enough to figure out what kind of service individual users want based on their previous car-hailing records.
Despite market speculation that Didi Kuaidi may invest in GrabTaxi to expand to the online ride-hailing market in Southeast Asia, the company said it is going to use most of its $3.5 billion cash reserves in the Chinese market.
With such concentration and such a warchest, Didi Kuaidi is expected to leave an even smaller share of market to its competitors, including the San Francisco-based Uber Technologies Inc, said Zhang Xu, an analyst with Analysys International.
According to a report from Bloomberg, Baidu Inc-backed Uber is seeking to raise as much as $1 billion for its Chinese business so that it can spend it on gaining customers from Didi Kuaidi.
Wang Xiaofeng, an analyst at Forrester Research Inc, said that the integrated platform model would not only give Didi Kuaidi an edge to compete with other rivals but a better way to make a profit in the future.
"People tend to spend more time on platform-model apps, such as WeChat and Alipay. The more functions one app has, the more time its users will spend on it," she said.
"If Didi Kuaidi can actually pull it off, it may become a new gateway linking car-hailing service users with third-party services providers. It can even sell cars and insurance in the future."