Taxi crackdown ensnares Didi Kuaidi app service
Private car owners who use platform to offer rides ruled as scufflaws
Didi Kuaidi, China's largest taxi-hailing app provider by market share, crashed into regulatory barriers in Beijing as the city's transportation authorities announced on Tuesday that private car owners that use Didi's platform to offer unlicensed taxi rides are violating regulations.
In a meeting with Didi Kuaidi, the Beijing Traffic Management Bureau said it has investigated and fined 207 unauthorized cars this year that illegally use Didi Kuaidi's platform, 161 of which are private cars.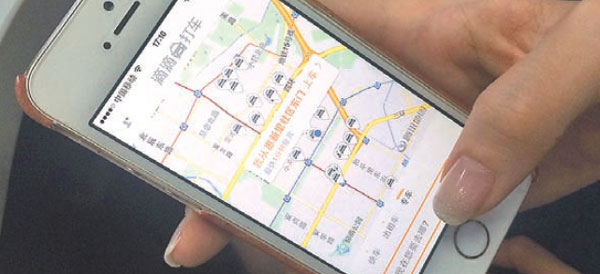 Beijing has vowed to investigate and fine private car owners who illegally use the taxi-hailing app operated by Didi Kuaidi. Wei Xiaohao / China Daily
The announcement came a day after Didi Kuaidi launched a carpooling service.
The city's transportation officials said while they encourage new business models in taxi markets, online platforms must observe existing regulations, as they vowed to continue their crackdown on illegal practices in the transportation sector.
"There is no guarantee for a passenger's safety when they take an illegal private car owners' zhuanche service that is procured through mobile apps," said lawyer Liu Ning, referring to Didi's chauffeur services, called zhuanche in Mandarin.
He warned Beijing residents from using the app service.
Although Didi Kuaidi and Uber have both partnered with insurance companies to compensate passengers in the case of accidents, lawyers warned the insurance is not guaranteed to be effective if an illegal transaction is involved.
Didi Kuaidi, created in a merger between rivals Didi Dache and Kuaidi Dache in February, has 160 million consumers and provides nearly 6 million trips a day. Over 400,000 drivers offer chauffeur services on its platform.
Didi said it will cooperate with regulatory departments to strictly follow the nation's laws. The company also promised to partner with local governments to establish a data platform to monitor cars and drivers on its platform.
In another move, Shanghai traffic and transport authorities launched an online car-hailing service platform with Didi Kuaidi on June 1.
It is believed to be the first step for the mobile platform to secure legal recognition from Chinese authorities.
The Shanghai transport commission announced it has teamed up with four of the largest taxi companies in the city and with Didi to operate a joint service platform that does not involve chauffeur services.
The commission will apparently monitor the information in real time. It was reported that it is looking to offer car rental services.
Didi's president Liu Qing said most of the laws and regulation on transportation management in China were formed more than 10 years ago and do not take into account the latest technological trends.
The Uber debate
Didi Kuaidi's rival Uber, which has been banned in 14 countries and regions, said it is confident it can fairly compete in what could be the world's largest market.
"We will find a way to partner and move forward," said David Plouffe, head of policy and strategy at Uber, adding that China may be the best example in the world to show that many options are needed to reduce traffic congestion and emissions.
Uber ventured into China last July and announced it would only work with legal car rental firms. But its sluggish business forced it to change its strategy to work with private car owners since last December.
According to Analysys, a domestic survey firm, Didi Kuaidi, which covers 61 cities, held nearly an 80 percent market share in the first quarter of the year; Uber, which serves 9 cities, accounted for 10.9 percent.
In recent months, Uber's offices in Chengdu and Guangzhou were raided for allegedly organizing private cars not qualified to provide passenger services.
Gu Dasong, executive deputy director of the Transportation Law and Development Research Center, claimed that passenger information is frequently sold to Uber drivers, who then allegedly use the contact info to drum up fake orders.
He said this issue should be addressed by the government.
The alleged scheme by some Uber drivers works like this: Drivers buy passengers' information at a low price and issue fake orders to Uber in a bid to earn a subsidy.
They can apparently earn as much as 7,000 yuan ($1,147) in a week if they make 80 orders.
Qi Chengyuan, a department director at the National Development and Reform Commission, said the country has begun mulling new management regulations on the taxi sector.
Dai Tian and Hao Yan contributed to this story.
yangcheng@chinadaily.com.cn