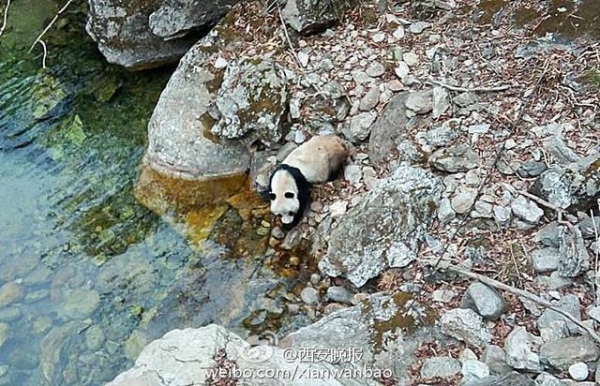 A giant panda is seen drinking water by the farmer.
XI'AN - A farmer in northwest China's Shaanxi Province has captured a giant panda drinking from a river, rare footage that indicates the normally-shy animal was probably ill.
In the two-minute video, the giant panda can be seen stretching, dropping its head to the river, and drinking before noticing the farmer and returning to the safety of the jungle.
"I watched it for around five minutes," said He Yijun with the Daguping Village, Yueba Township of Foping County.
The farmer shot the footage in the late afternoon on March 9 near his village, which is part of a state-level reserve for the protection of Qinling wild giant pandas.
He said he thought he had found a huge calico stone, before he realized it was a giant panda, which was moving very slowly.
Yong Yange, a giant panda expert with the Foping natural reserve, said the panda may have been suffering from a sore throat or heartburn, as it took longer than usual to drink water.
"A healthy Qinling giant panda drinks for just one to two minutes before returning to the bamboo woods, and seldom drinks repetitively," he said.
Yong advised local farmers to report any giant pandas that they see drinking repetitively with a white and dry nose, as the animal would probably need medical treatment.
The Qinling giant panda is a subspecies of giant panda that was identified in Qinling Mountains in 2005. It differs from the more familiar Sichuan subspecies by its smaller and rounder skull, shorter snout and fuller fur. There are about 270 giant pandas in the Qinling region.