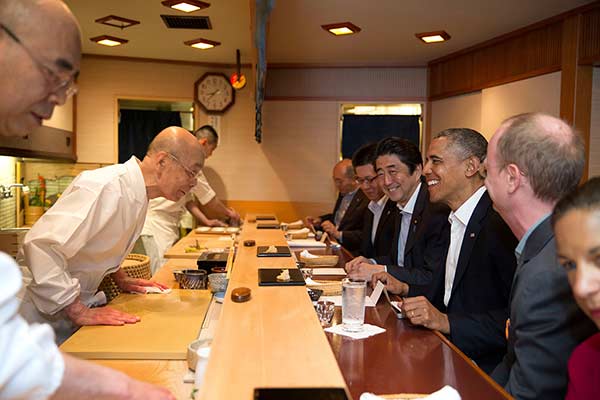 US President Barack Obama and Japanese Prime Minister Shinzo Abe talk with sushi master Jiro Ono, owner of Sukiyabashi Jiro sushi restaurant, one of the two Michelin three-star restaurants in Japan, April 23, 2014. [Photo/CFP]
Premier Li Keqiang introduced the concept of the "spirit of the craftsman" during his government work report during the annual sessions of the nation's legislators and political advisers.
Li said Chinese companies need to upgrade their products for the domestic market in the face of fierce competition as Chinese go abroad to buy items such toilet lids.
To produce better products requires the spirit of the craftsman.
Most people think of craftsmen as no more than skilled workers who can only repetitively complete one operation.
But there is more to them than that.
Many successful entrepreneurs have been found to have the spirit of the craftsman which includes determination, patience and the desire to achieve perfection.
Among all enterprises to have lasted more than 200 years, Japan sits top with 3,146 companies, followed by Germany with 837, the Netherlands 222 and France 196, reported National Business Daily. In China, there are less than 10 such companies.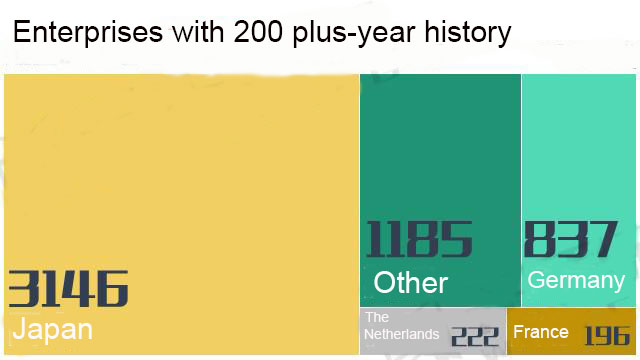 The spirit of the craftsman was alive and well in all those companies.
The craftsman's spirit is defined by the Baidu encyclopedia as one who is devoted to make things with perfection, precision, concentration, patience and persistence.
For example, Ono Jiro, an 89-year-old sushi maker, known as the master of sushi, who believes in the spirit of the craftsman, or professional spirit which makes his sushi restaurant the best in Japan.
Octopus in Jiro's restaurant is required to have 40 to 50 minutes of massage to become softer and more aromatic. An apprentice of his once spent 10 years before meeting his standard to make the perfect omelet.