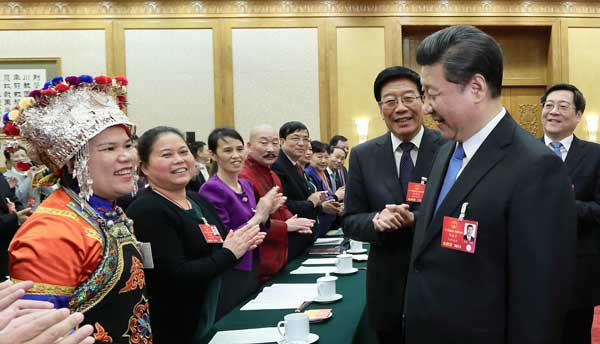 President Xi Jinping talks with female delegates while attending a panel discussion with lawmakers fromHunan province on Tuesday, which was International Women's Day. Xi sent his greetings to all women across China. LANHONGGUANG/ XINHUANEWS AGENCY
President Xi Jinping vowed on Tuesday to show "zero tolerance" toward election fraud.
He made the remark when he joined a panel discussion of lawmakers from Hunan province, where a high profile vote-rigging case was reported in 2013.
That year in Hengyang, the second-largest city in the province, 56 provincial legislators were found to have offered 110 million yuan ($16.9 million) in bribes to hundreds of city lawmakers and election staff members to get elected.
According to the Electoral Law, lawmakers at the county and township levels are directly elected by the public, while lawmakers at the provincial or city levels are elected by the legislative body at the level below them.
Since legislative bodies will hold elections this year and next, "We need to draw profound lessons" from the Hengyang electoral fraud case, Xi said.
It has become the norm for top leaders to join panel discussions held by some delegations during the annual sessions of the top legislature and advisory body, to listen to opinions from the grassroots.
During the panel discussion, Xi elaborated on the electoral system, in addition to economic growth and social affairs.
The president called for strict legal procedures, an effective electoral mechanism and good discipline in a quest to eradicate election fraud.
Fu Ying, spokeswoman for the annual session of the top legislature, once called the Hengyang case the worst in the history of the people's congress system.
After the scandal was exposed, the Hunan provincial legislature disqualified the 56 provincial lawmakers in late 2013, and 512 city lawmakers who had taken bribes were asked to resign.
Those involved were either sentenced to prison or given administrative and Party punishments.
Hunan has taken the case as a lesson and will crack down on any such misbehavior during the coming elections, said the province's Party chief, Xu Shousheng.
Zhan Zhongle, a professor of administrative law at Renmin University of China in Beijing, said officials need to reflect on the anti-corruption mechanism during the upcoming elections and try to perfect the electoral system gradually.
Xi's remarks mean that more detailed arrangements are expected in an effort to improve supervision over the elections, Zhan said.
Contact the writers at wujiao@chinadaily.com.cn