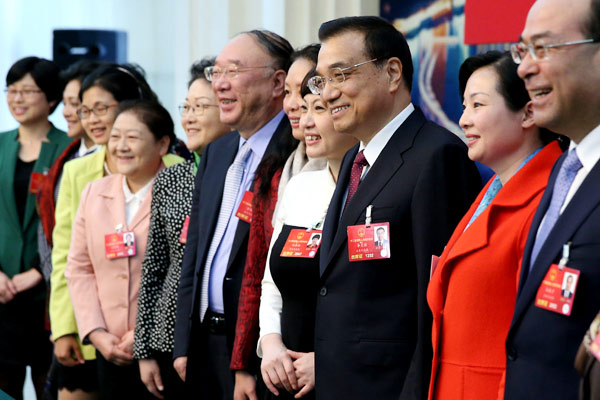 Premier Li Keqiang joins Chongqing deputies to the National People's Congress for a photograph after a panel discussion in Beijing on Tuesday, which marked International Women's Day. Li extended greetings to the female deputies.[Photo by Wu Zhiyi/China Daily]
The central government is to continue with its self-reform program and delegation of power to lower levels to boost market vibrancy in central and western areas of China-key areas for future economic growth.
Premier Li Keqiang stressed this point during a meeting with deputies from Chongqing on Tuesday during the annual session of the National People's Congress, where he heard their suggestions.
Chongqing headed GDP growth in China last year, with an 11 percent expansion year-on-year, while the national figure fell to 6.9 percent. The municipality has set a goal of 10 percent GDP growth for this year.
Li highlighted the economic achievements made by Chongqing last year. He encouraged it to play a leading role in economic reform and opening-up in central and western China as well as the overall development of the Yangtze River Economic Zone, driving the development of surrounding regions.
He urged the municipality to introduce diverse measures to generate new economic driving forces, such as the service industry, and to upgrade traditional industries.
Chongqing lies at the intersection of the route for China's Belt and Road Initiative and the country's Yangtze River Economic Belt. In November, the premier proposed expanding free trade zone policies for central and western China.
Chongqing also hosts the third government-to-government project between China and Singapore. Launched in January, this focuses on cooperation in financial services, aviation, logistics and information communication technology.
Zhang Xiaode, a regional economist at the Chinese Academy of Governance, said Chongqing has high geographic importance in central and western China, as it has performed better than neighboring provinces. It is also important for the city to have better high-speed rail transportation to further grow its economy, Zhang said.
Delegating power to lower levels was stressed repeatedly by Li during Tuesday's meeting as he focused on cultivating local expertise.
Liu Xiya, a deputy and principal of Xiejiawan Primary School in Chongqing, said she hopes that local primary schools can be given more power over teaching subjects, eliciting a warm response.
Li also asked at the meeting about primary school students' education.
He agreed to Liu's request for a group photo with all the female deputies from Chongqing after the meeting, as Tuesday marked International Women's Day.