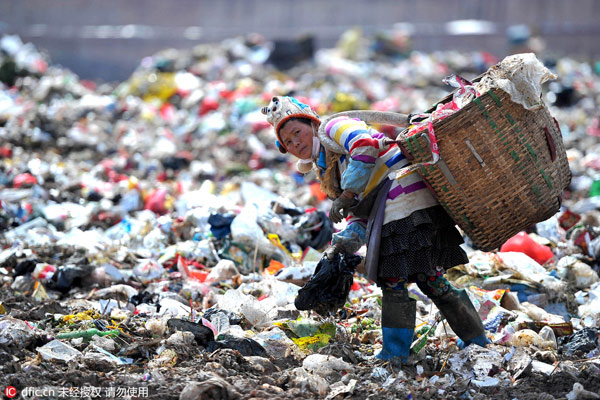 A woman searches for recyclable wastes in a landfill in Nanning, South China's Guangxi Zhuang autonomous region. [Photo/IC]
A new O2O application has shown its potential to help build a circular economy with more recycling, but obstacles remain for the recycling industry to innovate.
"If all the garbage generated in Chinese cities this year were loaded on trains, the length of all the trains would equal twice that of the equator," said Chen Laying, a sanitation worker and deputy to the National People's Congress, during this year's two sessions.
Chen's voice raised one of the major problems in Chinese cities' development – the unchecked and fast rising amount of garbage which threatens the environment and human life.
As a result of rising living standards, garbage in Chinese cities has been rising at almost the same pace as the country's GDP – around 10 percent in recent years. From 1979 to 2013, the amount of garbage disposed of every year has jumped from 25 million tons to 173 million tons.
More than 90 percent of refuse with recycling value has not been recycled, according to Wang Jiwei, secretary general of China Association of Circular Economy. Most waste ends up in a landfill or incineration plant, using up large areas of land and polluting the environment, he said.
Inconvenience
In Chinese cities, most of the recyclable garbage thrown away are either collected by scavengers who earn a meager income from the business or sold to small waste collection agencies by the owners themselves. Waste sorting is done in a random and disorganized way.
Waste sorting and collection is an unpleasant experience for many due to a lack of professional guidance and service and low profits.
"Sometimes, I have to drive my car with all the plastic bottles and piles of cardboards to waste collection agencies several blocks away, only to receive a dozen yuan," said Wu Yue, a senior Beijing resident.