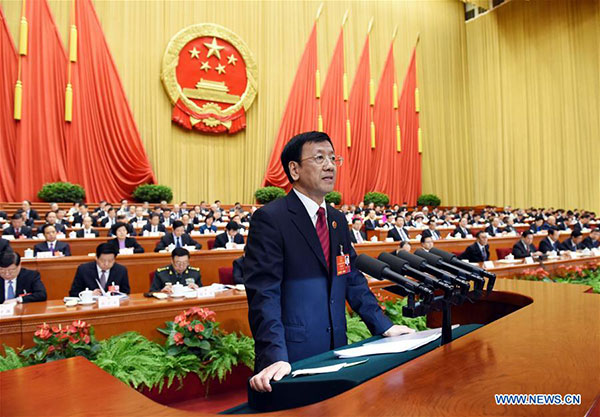 Cao Jianming, procurator-general of the Supreme People's Procuratorate (SPP), delivers a report on the SPP's work during the third plenary meeting of the fourth session of China's 12th National People's Congress at the Great Hall of the People in Beijing, capital of China, March 13, 2016. [Photo/Xinhua]
China will continue to expose and punish corrupt senior government and Party officials, judicial authorities said on Sunday, after figures showed a rise in prosecutions last year.
Twenty-two high-ranking officials stood trial last year as part of the nationwide anti-graft campaign, with another 41 placed under investigation, up by 46 percent on 2014, according to the Supreme People's Procuratorate.
Among those punished were Zhou Yongkang, the former security chief, who was sentenced to life in prison for disclosing State secrets, abuses of power and accepting bribes, and Jiang Jiemin, the former head of the State-owned Assets Supervision and Administration Commission, who received 16 years for bribery.
This year, prosecutors will pay extra attention to officials who hinder the implementation of national economic development policies, block reform measures, or endanger government investment or the safety of State-owned assets, Cao Jianming, the prosecutor-general, said in his work report to the legislature on Sunday.
He said his authority will also be more aggressive in going after grassroots officials, such as those in charge of agriculture and poverty alleviation, and will look at corruption in the selection and promotion processes.
According to SPP data, prosecution departments probed 54,249 officials at all levels for duty-related offenses last year, roughly the same as in 2014. This included 8,217 accused of taking bribes, up by 5 percent year-on-year, of whom 2,495 were punished.
The growing number of prosecutions demonstrate "the Party and country's resolute determination to tackle corruption", Zhou Qiang, president of the Supreme People's Court, said when delivering his work report on Sunday.
Tackling graft has been a priority for the government since late 2012, when President Xi Jinping launched a sweeping campaign targeting high- and low-ranking officials, or "tigers and flies".
In October 2014, the SPP launched an action targeting corrupt officials who had fled abroad. So far, it has led to the returning of 124 suspects from 34 countries and regions, including the United States, Canada and Australia.