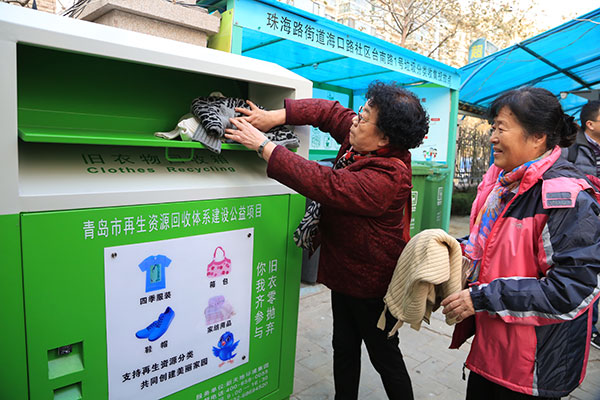 People put used clothes for recycling in the Shinan district of Qingdao. [Photo/chinadaily.com.cn]
Holding two large bundles in each hand, Gao Dunhuan walked toward a large bin beneath her apartment building in the Shinan district of Qingdao. Opening the lid, she cast the parcels into the container labeled "old clothes".
"Most of these clothes are barely used, almost brand new. It is a real pity if they are just discarded," she said. "The recycling bin is really useful, and it is near home."
The box is part of a new program to recycle used clothing in this coastal city in Shandong province, similar to efforts in other cities, such as Shenzhen and Suzhou. While most of China's streetside recycling efforts are still informal, led by a brigade of collectors who collect and then resell paper, glass and plastic by the kilo, the Qingdao effort is a government initiative.
As a first step, the city set up 23 recycling bins in 10 Shinan district communities. The program will be gradually expanded to the whole city.
Chen Rusheng, an environmental official for the Zhanshan community, said a special vehicle that collects the old clothes came to his community twice during the past two weeks, collecting more than 200 kilograms.
"Almost every family has some old clothes that they hope to donate, but don't know how. The bin perfectly solved this problem," he said. "The bin is always full to the brim."
Zhu Youheng, manager of New World Environmental Services Group, which transports and disposes of the clothes, said the company had created regular patrols to check the recycling bins. Once a bin is full, a special vehicle collects the items, which are then classified by a professional staff at a warehouse.
Newer clothes are washed, sterilized and then donated to charity organizations, Zhu said. The rest will be processed and provided to manufacturers.
Providing the used clothes to charity organizations is a big part of the appeal to residents in other cities that have adopted such programs.
"The recycling idea is great, but only if it's easy to do and the old clothes they gather are distributed to those who are in real need, such as residents in the poor areas," said Zhang Long'er, 27, a technician at a state-owned company in Zhuzhou, Hunan province. "I always have masses of old clothes, but I couldn't find easy ways to donate them. In the end, they were usually thrown away."
Chen Liangnu, 29, an accountant in Hefei, said the addition last year of a clothes donation box in her community helped her to empty her wardrobe of old, unworn items, while satisfying her mother-in-law's ingrained need not to waste anything useful.
"Everytime I wanted to discard some clothes I swore that I would not wear anymore, my mother-in-law would stop me and very probably scold me for being too lavish," Chen said. "She insists on bringing the used clothes to her relatives in the countryside. While we don't visit them often, I guess many of them would not likely accept our seemingly generous donation over dignity concerns."
Back in the Shinan district, Sha Li, an official at the Urban Management Bureau, said the program is the extension of the garbage classification work, which the district began in 2013.
"It is a huge waste to burn old clothes together with other garbage," Sha said.
In many Western countries, garbage classification has been developing for years. In some cities in the United States, for example, residents are required by city ordinance to sort their garbage, separating food waste, yard waste, plastics, paper, glass and other items into separate bins for collection.
Whether that's the future for China's cities isn't known. But Zhu Youheng, from New World, said the clothes recycling in Qingdao is only the first step of the garbage classification work. "We will further cooperate with the government to classify more garbage in the future," Zhu said.
Zhu Lixin, Zhang Yu, Qi Xin and Liu Liaoli contributed to this story.