In today's trending, a woman literally gets lost in the smog, burglar leaves apology behind, and a restaurant charges an air purifying fee to its customers.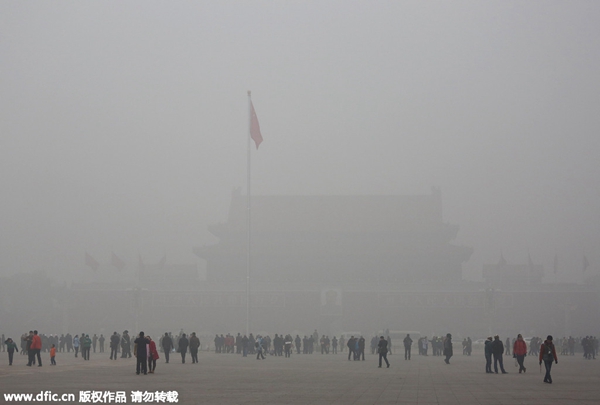 Visitors walk at the Tian'anmen Square amid severe smog in Beijing on Tuesday. [Photo/IC]
Woman gets lost in thick smog
Chinese netizens usually make a mockery of the smog by conjuring up some ludicrous stories. But what happened in the village of Ma'anshan, in East China's Anhui province reveals that these stories have a basis in the truth.
A woman, surnamed Hu, got lost in the thick smog on the way to a relative's home and wandered on streets for a whole day, anhuinews.com reported on Sunday.
At around 7 pm of Dec 7, the police received a call from Hu's husband who reported that Hu was missing and launched a search around the village. When the police found her two hours later, Hu was too hungry, thirsty and tired to stand.
Hu's husband said Hu is a bit mentally retarded and was unable to use a mobile phone.