Contraception advised after childbirth to avoid unwanted pregnancies and reduce abortion risks
Senior family planning experts warned that a low awareness of contraception immediately following childbirth might undermine Chinese women's efforts to have a healthy second baby.
The optimal birth interval is two to three years, according to the World Health Organization. Shorter birth intervals are associated with adverse health impacts for the mother as well as for the baby, including greater risks of low birth weight and premature birth.
"Women in China, however, lack the knowledge, and unwanted pregnancies usually end with an abortion, which might make it harder for a woman to have a second baby," said Cheng Linan, honorary chairwoman of the Chinese Society of Family Planning, at an awareness-raising event on post-abortion care hosted by Bayer HealthCare and the China Women's Development Foundation.
She said that Chinese women now have limited access to postpartum contraception counseling and services, as current family planning tasks are focused on newborn health.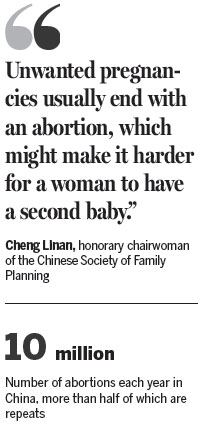 In a recent survey in Beijing, more than 72 percent of the women surveyed said they wouldn't start taking contraceptives until three months after delivery.
But a regional survey showed that about 11 percent of Chinese women who gave birth aborted an unwanted pregnancy within one year after delivery. Put another way, among all abortions within a given period of time, 23 percent were for women who gave birth shortly before.
"That affects women's fertility, particularly among those already in their mid 30s or older," Cheng said.
She urged women to initiate contraception in the very early postpartum period to prevent pregnancy.
Due to improved nutrition, Chinese women ovulate on average 45 days postpartum and among some nonbreastfeeding women it could be as early as 25 days, data from the society showed.
In addition, women need to plan their second birth scientifically, said Gao Lihong, a doctor with Jiaxing Maternity and Child Health Care Hospital.
International data show that a birth interval of more than two years reduces the maternal and neonatal mortality by 32 and 10 percent respectively.
According to the National Health and Family Planning Commission, the average age of a Chinese women giving birth to her first child is 28 years.
Gao said it's important to prevent unwanted pregnancies and abortions; otherwise it can be harder for a woman to conceive again in her 30s.
China has more than 10 million abortions each year, and more than half of those are repeats.
Cheng put reproductive advice for women simply: "Don't give birth too early, too frequently or too late."
shanjuan@chinadaily.com.cn