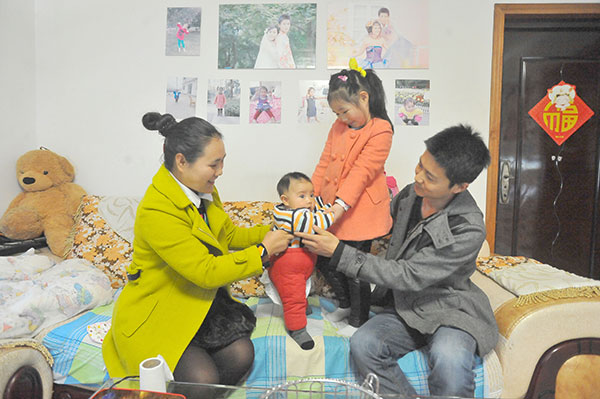 A couple with their two children in this file photo. [Photo by Li Chuanping/Asianewsphoto]
BEIJING - About 1.45 million Chinese couples, or 13 percent of those eligible, submitted applications for a second child as of the end of May, an official with the National Health and Family Planning Commission said on Friday.
The number of couples opting for a second child has seen "steady growth" since a major policy change came at the end of 2013, when couples were permitted to have a second child if either parent is an only child, said Yang Wenzhuang, the commission official.
Each month, an average of 80,000 to 90,000 couples submitted applications for a second child, with the peak reaching 150,000 a month last July and August, Yang said.
Yang said the procedures Chinese couples must go through before registering their babies at local household bureaus have been simplified.
The number of couples who qualify -- those who already have a first child and in which at least one parent is an only child -- is about 11 million, with nearly 70 percent of them born after 1980, he said.
A survey of the National Bureau of Statistics showed that 40 percent of the couples that meet the requirement intend to have a second child.
China, the world's most populous country, introduced its family planning policy in the late 1970s to rein in population growth by limiting most urban couples to one child and most rural couples to two, allowing the birth of a second child if the first child was a girl.
The number of infants born last year was up 470,000 from 2013, when the new policy was put in place.
Although the adjustment did not lead to the baby boom many expected, experts said its effect will be seen in four or five years, as time is still needed for full implementation of the two-child policy and authorities need time to assess the results of the policy change before making further adjustments.