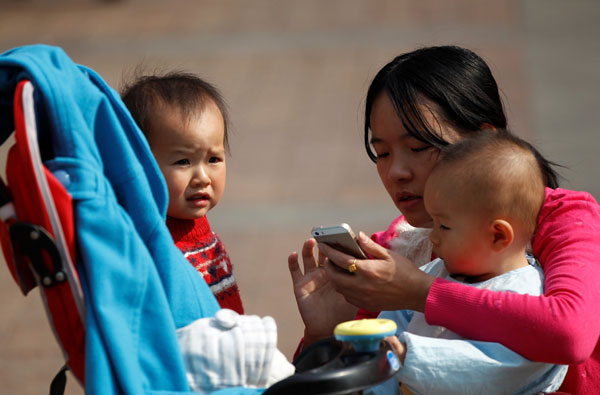 The two-child policy was put into practice in early 2014 and did not lead to the baby boom in many provinces in China. [Photo by Zou Zhongpin/for China Daily]
All couples in China may be allowed to have a second child in the next few years with the relaxation of the family planning policy, population experts say.
Currently, most couples in urban areas can have a second child if at least one parent has no siblings, and couples in rural areas can have a second child if the first one is a girl.
"I think most scholars in China agree with further relaxing the family planning policy so all couples can have two children if they want, and the focus of disputes on the issue center on when and in what form the policy will be carried out", said Yuan Xin, a professor in population studies in Nankai University in Tianjin municipality.
"In my opinion, all couples will be allowed to have two children after two or three years, following the current transitional period."
Family planning polices have a huge impact on the whole population and caution should be exercised in implementing any changes, Yuan said.
The National People's Congress, China's top legislature, adopted a proposal at the end of 2013 by the central government that allows couples to have a second child if either of them has no siblings.
About 1.07 million such couples had registered with the authorities to have a second child by the end of last year, according to the National Health and Family Planning Commission.
"It is a transitional policy, and it has some incentive to stimulate population growth in China, but the incentive will be diminished over the next few years," Yuan said. "And then it will be the time for a policy that allows two children for all couples."
Yang Juhua, a professor of the population development studies center at Renmin University of China, said it will be time for a more relaxed family planning policy, considering the very low fertility rate and a rapidly ageing population in China.
"I think there will be no question that all couples across the country will be allowed to have a second child during the 13th Five-Year Plan period (2016-2020)," she said.
Zhai Zhenwu, head of the China Population Association, said family planning policies will be further relaxed at the current level, according to a report of the Southern Metropolis Daily on Thursday.