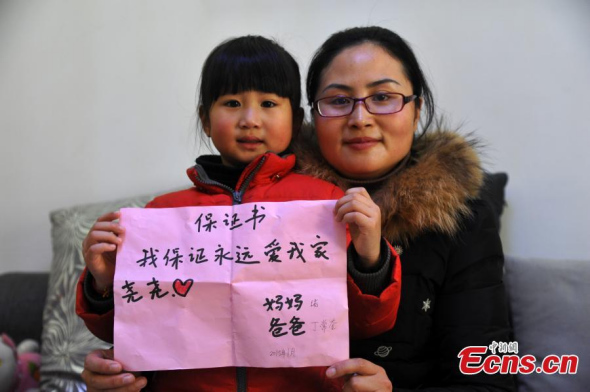 A woman and her first daughter pose with a written promise about having the second child in their family in Hefei, East China's Anhui province, Feb 2, 2015. [Photo/China News Service]
To have a second child or not? Many parents are still struggling to answer that question, even as the Chinese government loosens control over birth restrictions.
Mrs. Xiao, 44, and her husband, who live in Xuzhou city, Jiangsu province, gave up their dreams of having a second child after their 13-year-old daughter threatened to commit suicide over the issue.
The girl attempted to hurt herself with a knife and also said she would run away from home. Xiao eventually decided to terminate the pregnancy.
But backlashes from only-children are just one of the reasons keeping qualified parents from having second children.
Financial pressure
A survey by China Youth Daily and web portal Tencent shows that 54.9 percent of 10,024 respondents agree that the first child's opinion should be taken into consideration when a family is planning to have a second child.
Yet more importantly, 84.9 percent of the respondents worry about the financial pressure of raising a second child.
China eased its three decade family planning restriction in late 2013 amid what critics called a demographic crisis: a declining labor force, and a growing number of senior citizens needing social support.
A shrinking labor force caused by the one-child policy could pose serious challenges and risks to economic growth, experts warned.
However, the year saw fewer than expected applications for second children. A calculation by the newspaper shows that just 6.7 percent of the eligible families in Beijing applied to have a second child.
The figures in second and third tier cities are not promising either. In Liuzhou city of Southwest China's Guangxi Zhuang autonomous region, only 20 percent of eligible families applied. And in East China's Anhui province, just 12 percent applied.
More than first-child objections
The survey also shows that 78.4 percent of respondents think parents should have a serious conversation with their first child when making the decision to start planning for a second.
Alongside the number one consideration - financial pressure - other factors also cause parents to reflect on whether or not to have another baby.
They include the mother's health, the influence the changed family structure might have on the children's development, additional pressure on grandparents, and the influence on the career development of the parents, especially the mother.
Peng Xizhe, director of the Center for Population and Development Policy Studies at Fudan University, says childbirth is indeed influenced by policy, but the deciding factors are the population's financial status, philosophy and lifestyle. Even when the restriction is lifted, few people are willing to choose a larger family.
But there are also benefits to increasing family size. Two siblings close in age can make convenient playmates, and can also help children learn to share.