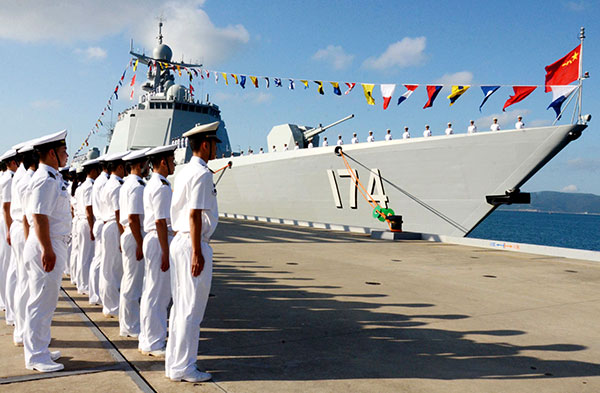 The Hefei, the third Type 052D guided missile destroyer commissioned by the PLA Navy, was delivered to the South Sea Fleet on Saturday in Sanya, Hainan province. GAO YI/CHINA DAILY
The Chinese Navy has commissioned three world-class guided missile destroyers, extensively improving the country's maritime combat capability.
The latest of the Type 052D destroyers, the Hefei, was delivered to the South Sea Fleet of the People's Liberation Army Navy on Saturday at a naval base in Sanya, in the island province of Hainan, the PLA Navy said in a statement.
Vice-Admiral Wang Dengping, deputy political commissar of the PLA Navy, told those attending the ship's commissioning ceremony that the Hefei is the most advanced destroyer ever built by China. He said its service would significantly enhance the Navy's joint combat capability and play an important role in safeguarding the nation's maritime interests.
The first Type 052D destroyer, the Kunming, joined the Navy in March last year, while the second, the Changsha, started active service in August.
"All posts on the vessel have been manned by my officers and sailors, since the shipyard technicians who were aboard to help us before the delivery have left," Commander Zhao Yanquan, captain of the Hefei, told China Daily in an exclusive interview on Monday.
"My men have familiarized themselves with the advanced equipment and weapons. In the near future, we will focus on training, aiming to make the ship become fully operational within a short period," he said. "Compared with the Wuhan, a Type 052B ship on which I was deputy captain, the new ship is especially stronger in terms of target detection capacity and air defense capability."
According to earlier reports by Chinese military news websites, the Type 052D destroyer has a full displacement of nearly 7,000 metric tons and a wide range of weapons, including a single-barrel, 130 mm naval gun, a close-in weapon system, anti-aircraft missiles and surface-to-surface cruise missiles. Adopting a host of cutting-edge technologies, the vessel features a low radar signature, a high information level and a state-of-the-art phased array radar.
Cao Weidong, a researcher at the PLA Naval Military Studies Research Institute, said that compared with other PLA Navy ships, the Type 052D has the best radar capability for detecting more targets at a longer distance; the best data link, which enables a joint operation with other ships or aircraft; and the best missile combination for hitting enemy surface vessels, submarines, aircraft and ground targets.
"Its larger displacement means it is able to carry more equipment and weapons, and is powerful enough to protect an aircraft carrier battle group in a long-distance operation," he said.
According to Yin Zhuo, director of the PLA Navy's Expert Consultation Committee, China is also developing the Type 055 destroyer, which has a full displacement of around 10,000 tons and can carry more than 100 missiles.