In today's trending, Chinese basketball fans draw Kobe Bryant's portrait in the snow, man cycles with 34 kg stone on head every morning.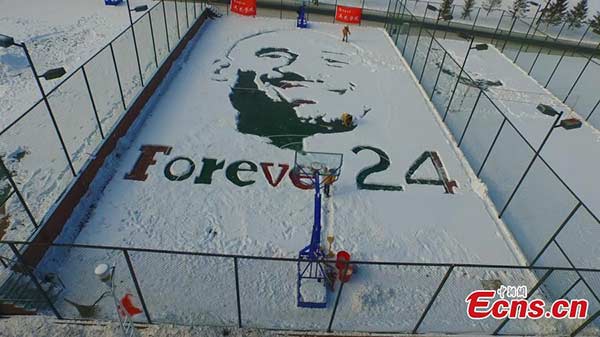 The birdview of the portrait of Kobe Bryant on snow. [Photo from ]
Chinese students make a Kobe Bryant portrait on snow
Kobe Bryant's retirement is a big deal for basketball fans who watch NBA games for years on end, and it's no exception for Chinese fans.
Several students in Jilin province showed their respect and love for Bryant by drawing a picture of him on an outdoor basketball field covered by snow.
It took four hours for the students to pull off the detailed work on Dec 6, using simple tools such as brooms and buckets. The "Forever 24" indicates his jersey number.
The students drew the picture right after Kobe, one of the most popular stars among over 300 million basketball fans in China, announced his retirement after playing for the Lakers for over twenty years.
In our next story, meet the incredible middle-aged man who cycles with 34 kg of stone on his head every day.