Some dogs said to be abused by students; remains mishandled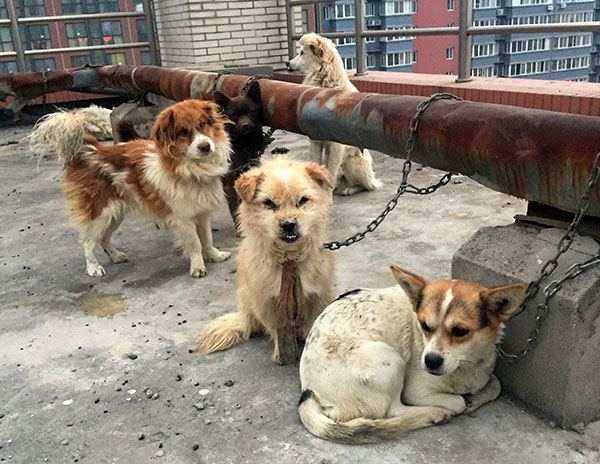 Dogs chained to pipes on the roof of a building at Xi'an Medical University in Shaanxi province on Saturday were to be used in medical procedures by students until the school stopped the practice pending a review. CHINA DAILY
Xi'an Medical University in Xi'an, Shaanxi province, has suspended practice surgeries on animals after it was determined that some dogs were abused and their carcasses mishandled during research.
The incident reignited public concerns about the welfare of animals used in laboratories in China, where at least 12 million animals-mostly mice-are used for scientific purposes each year, the Ministry of Science and Technology said.
Rabbits, guinea pigs, dogs and monkeys are all used in research.
The university's official micro blog reported on Sunday that an investigation found abuse of the dogs and inappropriate disposal of carcasses.
"We required personnel to deal with the case immediately and asked the clinical medical school of the university to suspend practice on animals and improve animal welfare," it said.
On Saturday, an anonymous micro blog posted photos that showed more than 10 bleeding dogs on the roof of a university building and questioned whether the dogs had been abused.
After the post went viral, some dog-loving volunteers went to the school, located in a northern suburb of Xi'an, on Sunday morning to protest and rescue the dogs. They were stopped outside the university and were told the dogs had been removed and would receive better treatment.
A teacher surnamed Feng said the bleeding dogs shown in the online photos were used in medical procedures carried out by students on Friday afternoon and were only temporarily placed on the roof.
"The professional organization that cooperates with our school takes the dogs away for treatment after the procedures," Feng said, suggesting the online post exaggerated the situation.
The students generally practice removing the dogs' appendixes.
Wu Zhenhua, a laboratory technician at another university in Xi'an, told China Daily that medical students need to conduct animal surgeries in order to learn clinical skills.
He said the dead animals would be buried.
The provincial education department said animals were necessary for teaching and research, but procedures and disposal methods should be standardized and strictly followed.
In addition to suspending procedures on animals until management is improved, the university also carried out education on how to care for animals and respect their lives.
Shan Juan contributed to this story.