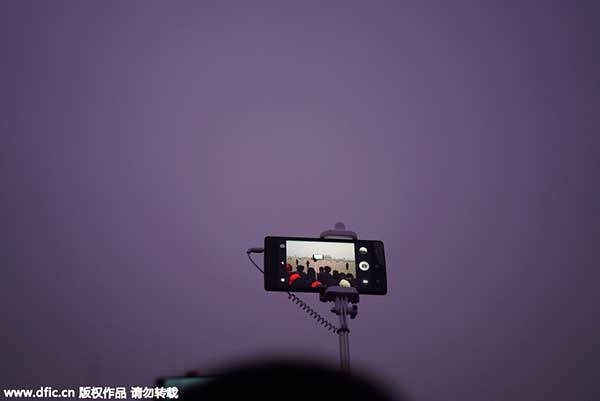 A visitor takes a snapshot of the smog-filled sky in Beijing, Dec 8, 2015. [Photo/IC]
Beijing's environmental watchdog issued its highest-level air pollution alert for the first time at 6pm on Monday with the capital facing a second wave of smog this winter.
The unprecedented red alert will be effective from 7 am on Tuesday until 12 noon on Thursday, according to Beijing Emergency Management.
There are some things you many want to know about the first highest alert since 2013 when Beijing adopted an emergency response program for air pollution.
Why did local authorities issue a red alert instead of an orange one?
The question is raised as there was only an orange alert for the severe smog with an AQI reading exceeding 500 at the beginning of December, while this time a red alert was issued with an AQI of more than 200.
According to the Beijing Municipal Severe Air Pollution Emergency Plan which took effect in March, the municipal government can issue a red alert when severe air pollution is forecast to extend for more than three days, the orange alert for three days, the yellow alert for two days and the blue alert for one day.
Some places in North China have experienced regional air pollution recently, and Beijing's air quality has remained heavily polluted due to windless and warm weather, according to Beijing Emergency Management Office.
The heavy air pollution in Beijing is expected to last more than three days so the red alert was issued, according to Zhang Dawei, director of Beijing Municipal Environment Monitoring Center.