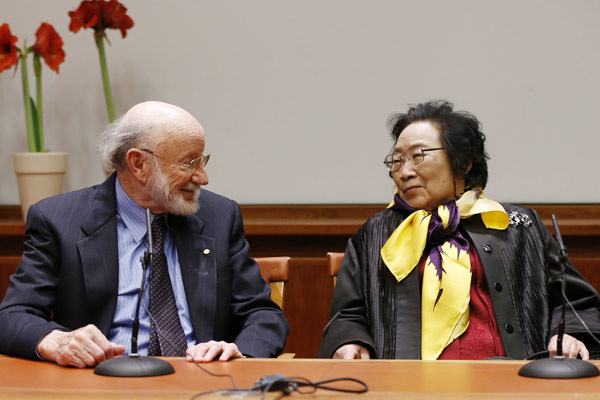 Chinese scientist Tu Youyou (right), the 2015 Nobel Prize winner for physiology or medicine, attends a news conference with fellow Nobel laureate William Campbell from Drew University in the United States on Sunday in Stockholm, Sweden.[Photo by Ye Pingfan/Xinhua]
Nobel laureate 'deeply worried' by emergence of resistance to novel drug artemisinin
Tu Youyou, this year's Nobel Prize laureate for physiology or medicine, called for joint efforts worldwide to combat malaria and develop more potential uses for traditional Chinese medicine.
Tu, 84, made the appeal at a news conference on Sunday at the Karolinska Institute in Stockholm, Sweden. She will collect China's first Nobel Prize in medicine at the award ceremony on Thursday and will later attend the Nobel Banquet and a Royal banquet.
"Malaria is a pandemic that can go easily out of control, especially in low income regions such as Africa. So all parties should, under the framework of the (World Health Organization), try their best to delay the process of artemisinin resistance."
Tu won the prize in early October for her lifesaving discoveries concerning artemisinin, a novel therapy for fighting malaria.
Currently, the emergence of resistance to artemisinin is an urgent public health concern and threatens the sustainability of the global effort to reduce malaria, according to the WHO.
To date, parasite resistance has been documented in three of the five malaria strains known to affect humans, it said.
"It's hard to develop a new drug in the next decade, during which it would be too late if malaria became widespread," Tu said, adding that she was "deeply worried about this possible outcome".
Referring to traditional Chinese medicine, which provided the source and inspiration for the successful development of artemisinin, she called TCM a "great treasure" with thousands of years' history and empirical knowledge. She said that by combining TCM with modern scientific technologies, "more potential can be discovered in searching for new drugs".
More than 240 million people in sub-Saharan Africa have benefited from the treatment, according to the WHO, and more than 1.5 million lives are estimated to have been saved since 2000, thanks to the drug.
Half a century ago, the pharmacologist derived artemisinin from the TCM herb of sweet wormwood, after finding a reference in a fourth-century TCM text as an ingredient to treat fever.
Tu is scheduled to deliver a speech in Stockholm titled "Artemisinin Is a Gift From TCM to the World".
Xinhua contributed to this story.