Returned suspects include 96 government officials; 1.2 billion yuan in illegal assets seized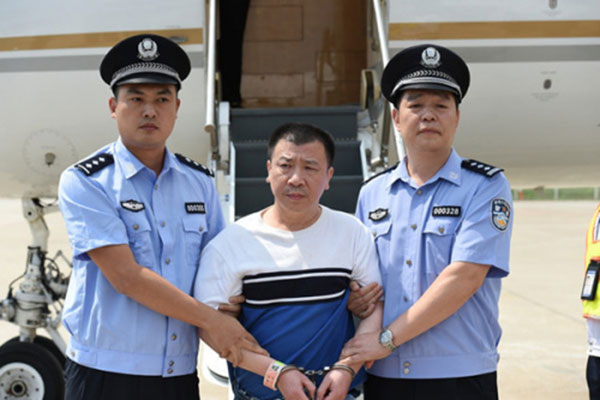 Yang Jinjun, on a list of 100 most-wanted Chinese fugitives abroad released by China in April, was repatriated from the US. [Photo/CCDI]
More than 700 Chinese fugitives suspected of involvement in economic crimes have been brought home from abroad since April to stand trial, according to a senior anti-graft official.
The suspects include 96 government officials, the official said on the eve of World Anti-Corruption Day, which fell on Wednesday.
China launched a repatriation campaign code-named "Sky Net" in April targeting 100 key officials who had fled overseas.
In the past seven months, law enforcement officers have also confiscated 1.2 billion yuan ($189 million) in illegal assets, said Liu Jianchao, director of the International Cooperation Department under the Communist Party of China's Central Commission for Discipline Inspection.
He said the suspects were brought back from 68 countries and regions. About 300 of them were persuaded by law enforcement authorities to return and surrender. Others were either forcefully repatriated or sent back through extradition agreements.
Liu did not say how many of those brought back were among the 100 key officials targeted in the campaign.
Among those brought back, 48 were returned from the United States, 34 from Canada, 19 from Australia and one from the United Kingdom.