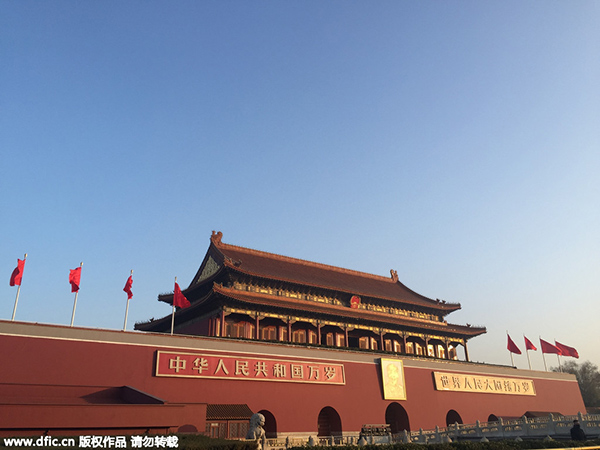 The Forbidden City, also known as the Palace Museum, is seen under the clear blue sky in Beijing, Dec 10 2015. [Photo/IC]
Beijing lifted its first red alert on Thursday noon as planned and residents started to breathe the long-awaited clean air, which is expected to last less than two days before air pollution comes back on Saturday.
The first red alert, the highest emergency response level against smog in Beijing, started at 7 am Tuesday, and was lifted as air quality improved on Thursday noon. The red alert lasted for 53 hours.

As of 12 o'clock at noon, the reading of PM2.5 – particulate matter with diameter less than 2.5 microns that is hazardous to human health – was lowered to 26 microgram per cubic meter in the six downtown districts, falling at the best air quality level.

Read More: Things you may want to know during Beijing's red alert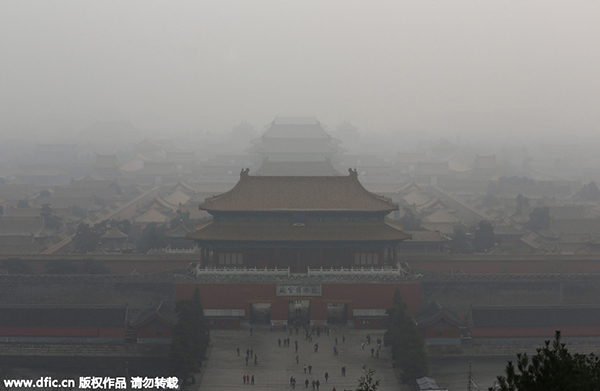 The Forbidden City, also known as the Palace Museum, is vaguely seen in heavy smog in Beijing, China, Dec 9, 2015. [Photo/IC]
However, at 6 am, the PM2.5 reading was 216 microgram per cubic meter at the hazardous level, according to the municipal environmental monitoring station.
The north wind has dispersed the accumulated air pollutants, bringing the blue sky back to the capital, the municipal weather authority said.
Guo Jianxing, weather forecaster of the municipal meteorological center, said the wind was not strong enough to blow away the smog for the whole Beijing-Tianjin-Hebei region, leaving some southern region of Hebei with light air pollution as well, according to Morning Post, a Beijing local newspaper on Thursday.
However, the weak wind can only keep the blue sky till Friday, he said.
The air pollution will come back to blanket the capital since Friday night, and remain on the weekend, but the coming spell of smog is expected to be light, not as severe as the one on Thursday.