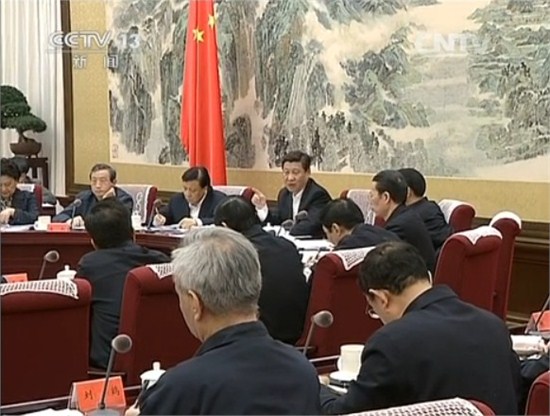 In this file photo taken in 2014, President Xi Jinping presides over a meeting of the central leading group for comprehensively deepening reform. [Screenshot from CCTV News Live]
Decision announced with other reforms for next year at meeting chaired by president
Chinese leaders decided on Wednesday in an unprecedented move to introduce binding rules setting limits on officials' power.
This will be carried out through the publication of a list of powers for all ministries of the State Council, or China's Cabinet.
The decision was announced along with several other reform initiatives for next year at a meeting chaired by President Xi Jinping and attended by Premier Li Keqiang and other leaders. A date for the publication of the power lists for all ministries was not announced in a statement released after the meeting.
The State Council consists of 25 ministries and ministry-level commissions, and about 50 direct subsidiary and affiliated bodies.
Song Shiming, a professor of public administration at the Chinese Academy of Governance, said the announcement means that the State Council wants to set an example by introducing a change it has been campaigning for over the past two years.
This refers to the publication of a power list and a negative list - or a list of things that companies should not do. If companies do not abide by this list, the government will intervene.
Following the State Council's example, all local governments down to county level are expected to publish their own power lists, Song said.
Of the powers granted to ministries, those of the National Development and Reform Commission, China's top economic planner and regulator, appear to be the most complex. The clear listing of the commission's powers will be a significant boost for market-oriented reform, Song said.
Commenting on the legal aspects of the forthcoming reform, Ying Songnian, a law professor at China University of Political Science and Law, said existing laws on organization of the government contain principles relating to official powers.
But these are so broad that definitions and separations of power remain unsystematic and even fragmentary in practice. Government offices sometimes go beyond the limit of their responsibilities, Ying said.
Yang Xiaojun,a professor of administrative law at the Chinese Academy of Governance, said the reform will benefit China by allowing officials to be clear about their duties and will also allow citizens to practice more effective supervision of the government.
Other highlights
The meeting also decided that:
・ The hukou (household registration) system will be improved. All people should be registered, including those without hukou as a result of the family planning policy. A census will be conducted to assess the number and distribution of those without hukou.
・ National parks will be set up in the Sanjiangyuan area of Qinghai province, where the Yangtze and Yellow rivers originate, to help with ecological restoration.
・ A unified basic medical insurance system will be set up for rural and urban residents, in addition to a multilevel medical security system that incorporates basic medical insurance, commercial insurance and other types of medical assistance.