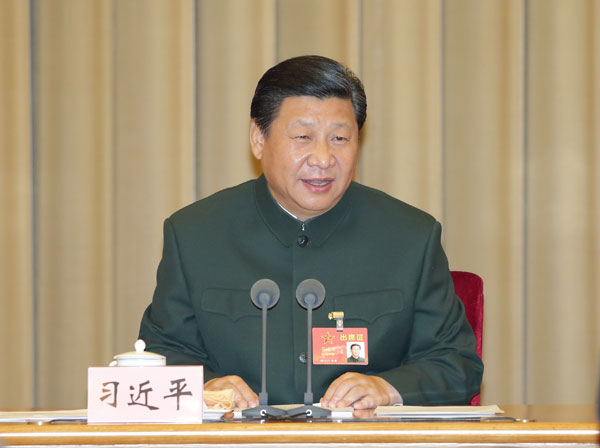 President Xi Jinping, who is also chairman of the Central Military Commission, speaks at a meeting on reforming the armed forces in Beijing.[Photo/Xinhua]
China's top military authority, the Central Military Commission, will greatly reduce its departments and personnel and give more power to lower-level authorities, a Defense Ministry spokesman said on Friday.
"The reform aims to enable the Central Military Commission to focus on its core missions, integrate similar functions, intensify supervision and better act as a coordinator," Senior Colonel Yang Yujun told a news conference on the reform guidelines, which were announced by the commission on Thursday.
After the reform, the decision on some specific matters will be left to lower-level authorities, he said, adding that the commission has planned to extensively cut the number of its organs, employees and affiliated entities.
"The restructuring will slim the commission and make it more efficient," the spokesman said. "The top authority will take the lead to compress its size, giving a good example to the whole People's Liberation Army."
The Central Military Commission hosted a three-day PLA reform meeting in Beijing from Tuesday to Thursday. President Xi Jinping, who is chairman of the commission, gave guidelines on the reform at the conference.
According to Yang, the Central Military Commission organized more than 860 seminars and forums to solicit suggestions on the unprecedented reform. Nearly 700 PLA units and government departments and more than 900 high-ranking officers were surveyed.
Yang also said that establishment of the ground force's headquarters will improve the Army's development and modernization.
Responding to a question on whether the reform will change China's defense policy, he said that the policy will remain "defensive in nature", and that Chinese armed forces "will always be a staunch force to safeguard world peace and regional stability".
President Xi's pledge in September that the military will cut 300,000 troops has demonstrated the nation's resolve to pursue a path of peaceful development, Yang added.
The government and the military have drafted a detailed plan and a set of supporting measures to make sure that the interests of those affected by the reform will not be compromised, he said.