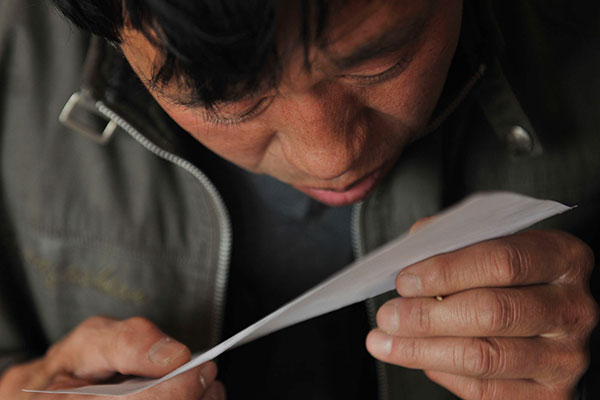 Wu Zhicheng, a Beijing resident who has no hukou, checks a paper that may help him reinstate his household registration in January. Wu said he lost his hukou 43 years ago because of a mistake that occurred when the local police relocated it to his employer. [Photo by Wu Jiang/for China Daily]
Beijing may introduce a new system to allow nonresidents to get a household registration, or hukou, through gaining enough credit points, according to a draft regulation by the Legal Affairs Office of the Beijing Municipal Government.
The move came as the capital stepped up measures to control the size of the population in central areas.
According to a draft regulation released on Thursday for public feedback, criteria for obtaining a hukou include having a Beijing residential permit, being less than 45 years old, having paid social insurance in the capital for at least seven consecutive years and having no criminal record.
To accumulate enough credit points, the applicants must have stable employment and a stable residence in the capital.
Educational background is among the most important criteria, with applicants holding a bachelor's degree being awarded 15 points and applicants holding a doctor's degree 39 points, according to the draft.
However, the draft did not specify how many points were required to obtain a hukou, stipulating that the yearly quota will be based on changes in the population.
The capital hopes to reduce the population by 15 percent in its six central districts-Dongcheng, Xicheng, Haidian, Chaoyang, Fengtai and Shijingshan-according to the 13th Five-Year Plan (2016-20) issued by the Communist Party of China Beijing Municipal Committee.
It also plans to contain total population within 23 million.
Applicants can accumulate up to 12 points if they move to suburban districts.
The proposal will primarily benefit high-end groups in Beijing, as most migrant workers will not be able to get a Beijing hukou, according to Yang Juhua, a professor of population studies at Renmin University of China.
"The requirement for a migrant worker to pay social security fees for at least seven years will be a very high requirement," she said.
The proposal is in line with the Beijing government's strategy to control population growth and move out the migrant population working in lower-end industries, she said.
In China, schooling of children, medical care, real estate assets and vehicle purchases are usually associated with hukou status, especially in major metropolises like Beijing, Shanghai and Guangzhou.
Zhao Mengjiao, a 28-year-old worker at a website in Beijing, said she has long wanted a Beijing hukou, but the credit point system has not made the application any easier.
"The application process could be an endless wait as the competition will undoubtedly be fierce," she said.