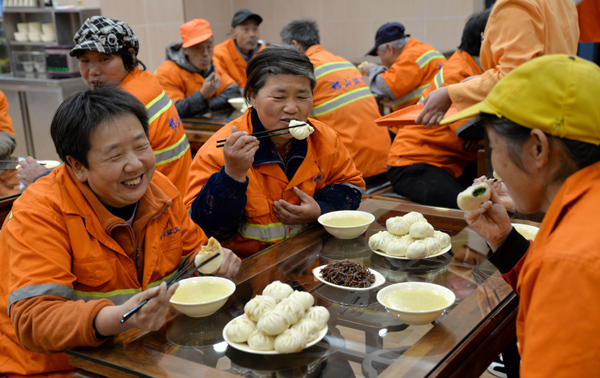 Sanitation workers enjoy free meals at a restaurant in Handan, Hebei province, on Tuesday. The restaurant provided the meals to nearly 100 workers to call on society to care more about the laborers. HAO QUNYING/CHINA DAILY
All provinces, autonomous regions and municipalities in China will issue plans for the reform of hukou, or household registration, system before the end of this year in a move to promote a reasonable flow of the country's rural population to urban areas and allow them to enjoy equal rights with city dwellers.
"Urbanization is a major topic for developing countries, and allowing more migrant workers to become urban residents is a core target for urbanization," Xu Shaoshi, chairman of the National Development and Reform Commission, said at a news conference hosted by the State Council Information Office.
With the cancellation of differences in household registration, Chinese migrant workers will "have access to more public services and enjoy equal rights, including education, career opportunities, medical care, pensions and housing with urban residents across the country", he said.
According to Xu, 25 provincial-level entities have introduced hukou reform plans, including Beijing, Shanghai and Guangdong. Other provinces and regions are researching the details and will release them in December.
"Local governments will set different household registration thresholds based on their ability to absorb migrant workers and scientifically control people's flow to big cities," said Wu Xianjiang, professor of public order at People's Public Security University of China.
Major cities like Shanghai will tighten their management of the flow of people, including with such methods as a point system based on applicants' living and employment conditions, as opposed to some small cities that will lower their thresholds for attracting rural migrants, he said.
Xu said that the hukou reform plans will expand migration channels and allow more willing and capable workers to settle in the cities.
In addition, the central and local governments will attach great importance to the key issues of speeding up spending, arranging land for city and township construction and increasing infrastructure investments to satisfy the strong expected demand that will come with large numbers flowing to the cities, he said.
Since the 1950s, the dual system has divided people into urban and agricultural households, a system under which migrant workers - unlike urban residents - had no access to public resources such as education, medical care and housing. That aroused dissatisfaction about unequal treatment of rural people and city dwellers.
Figures provided by the Ministry of Public Security show that there were 749 million permanent residents in the cities last year, including 250 million migrant workers who lived in the cities for more than six months.
In a recent proposal for China's 13th Five-Year Plan (2016-20), the nation will deepen hukou reform to allow migrant workers with stable work and skills to settle down in cities with their families and enjoy the same rights of city dwellers.
The central government has issued a guideline to phase out the old system, saying the country will set up a modern household registration management system, and a mobile rural population of 100 million people will settle in urban cities alongside city households.