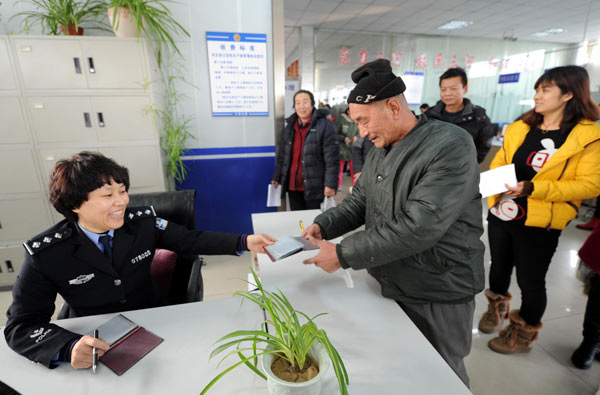 A man's hukou is transferred at a government service center in Sanhe, Hebei province. [Photo/Agencies]
As the Ministry of Public Security mulls new regulations to grant hukou (household registrations) and identification cards to those without them, these residents' problems are about to be solved, the Beijing News reported.
Every time Li Jing's (alias) baby daughter cries to ask for her dad, Li comforts her by saying: "Wait, wait, your daddy is working in another country."
The three-year-old is the second baby in the family. She hasn't got a hukou yet because the family didn't pay social maintenance fees for violating the one-child policy.
Li's husband was sent overseas by his company in October. Although the family were allowed to go with him, Li stayed with the two children at home as the younger child could not obtain a passport.
Data from the sixth nationwide census reveals that the number of residents without a hukou in the country exceeds 13 million.
The group mainly includes children born in violation of the family planning policy, those born of single mothers, abandoned children and those who have lost relevant documents, according to a survey conducted by Wan Haiyuan, an associate researcher at the National Development and Reform Commission, last year.
Due to the absence of a hukou, most do not have access to normal education, jobs and social welfare. As the real-name system is being implemented in the country, they cannot even take trains or see a doctor in hospitals.
Last month, the Ministry of Public Security vowed to address the problem and grant the group hukou and identification cards. Although a detailed plan has not been released, a new chapter is to open.