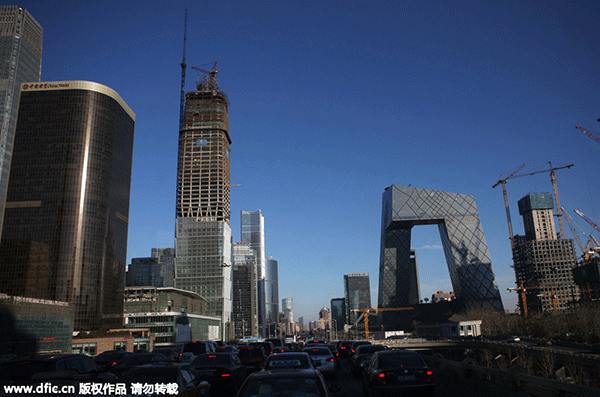 A photo taken on Dec 2, 2015 shows buildings in Beijing's Central Business District are clearly visible under the blue sky. [Photo/IC]
Overnight wind drove the severe smog that had lasted five days out of Beijing, but the impact of the pollution has triggered discussion.
A northwestern wind arrived in Beijing on Tuesday night, leading to the lifting of the orange smog alert at 10:45 pm.
Air quality is expected to remain good until Friday, said Zhang Dawei, director of the Beijing Municipal Environmental Monitoring Center.
Between Nov 27 and Dec 1, the air quality index in many monitoring stations in Beijing soared to 500 as the smog concentration escalated.
To reduce emissions, Beijing authorities ordered that production at more than 2,100 companies be restricted and all work on construction sites that could generate dust be suspended. Inspection teams were sent to polluted factories and construction sites by the Environmental Ministry on Nov 27 and 30 to track down violators.
People's daily lives were affected. Beijing schools canceled outdoor classes and activities and some were closed to protect students from the toxic smog.
Beijing's connections with other regions were partially shut down for hours on Tuesday. Expressways were sealed off and flights were delayed as the thick smog reduced visibility to several hundred meters.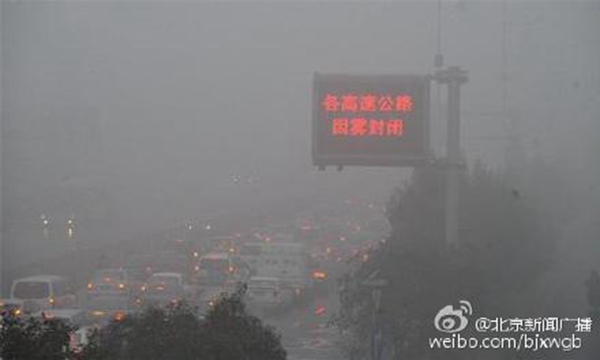 Vehicles move slowly on a road and an electric screen reads that expressways in and out of Beijing are sealed off temporarily due to severe smog. [Photo from Weibo account of Beijing News Radio]
From 10 am on Sunday to 10:45 pm on Tuesday , the orange smog alert, the first in Beijing this year, has lasted for more than 60 hours. The concentration of PM2.5 - particulate matter with a diameter less than 2.5 microns that poses health risks - reached 945 at its peak in a southern Beijing monitoring station on Monday.
Many questions were raised as the capital recovered after being hit by the severe smog.